Roller Derby Books
Roller Derby Videos
---
Green Streak: A Zeke Armstrong Mystery
by Daniel J. Hale and Matthew LaBrot

Green Streak is a new book in the Zeke Armstrong Mystery Series for readers age 9 to 12. The plot involves two skaters who are in New York City for the Big Apple Roll inline skating race and party weekend. Very cool!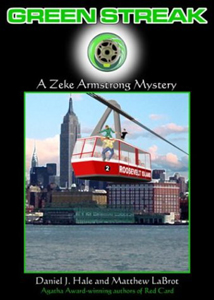 More About the Book at Amazon.com


Title: " Green Streak"
Authors: Daniel J. Hale and Matthew LaBrot
Publisher: Top Publications
Publication Date: April 2004
Reading Level: Age 9 to 12
Book Series: Zeke Armstrong Mysteries





Publisher's Description


In the second book of the Zeke Armstrong Mysteries Series, 13 year old Zeke Armstrong goes to New York for the Big Apple Inline Skate-Off,where he finds "malice in Manhattan".

When another inline skater robs an aging heiress in Central Park the police call it a mugging, but Zeke suspects that it's part of a more sinister plot.

Will Zeke figure out what's up in time to save the wealthy woman and skate the final race, or will the bad guys stop Zeke in his tracks?

---
Related Links
All Skating Books
Commercial Skating Videos
Roller Skating in the Movies
---
Skating in Africa | Skating in Asia | Skating in Europe | Skating in Oceania | Skating in The Americas
Inline Skate Shop
Roller Skate Shop