Roller Derby Books
Roller Derby Videos
---
Melbourne Social Skate
Sunday, March 23, 2003 - Melbourne Australia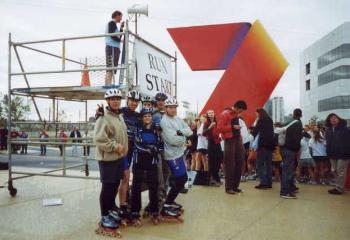 Melbourne skaters at the 2002 Docklands Fun Run Skate


A group of skaters in Melbourne, Australia will gather this weekend for an early morning fun roll around the city, while the roads are closed for the Orange Great Melbourne Bike Ride. Skaters will meet in front of the IMAX Theater in Carlton Gardens (on Rathdowne street next to the Royal Exhibition building) on Sunday, March 23, 2003 at 7:30 a.m. All skaters are invited to join this fun roll.

If you would like to join the skate, send email to learn2skate@yahoo.com so you can be notified of any changes in schedule or meeting place.

FROM THE ORGANIZERS:
"This Social Skate will be a great opportunity to skate the streets of Melbourne with other recreational enthusiasts and have some serious fun. This is going to be a blast. I know it is early but there is talk of skating across the Westgate Bridge. This means don't turn up if you have been drinking the night before, don't wear old skates this Sunday and skate smart. If the Social Skate group uses common-sense we are going to see the best sights of Melbourne like never before."

A few notes about the Melbourne Social Skate:


The focus of the skate is to have fun and enjoy meeting and being around other outdoor enthusiasts.


There will be opportunities for refreshment stops and cafe lattes.


The skate will be suitable for intermediate and advanced level skaters.


There is no cost to join in.


This is an independant event, with everyone "skating at own risk".


The roads will be closed that day for the 2003 Orange Great Melbourne Bike Ride


Skaters will be sharing carriage-ways and pathways with other members of the public.


This skate has no promotional objectives, financial objectives, training objectives, competition objectives or law-breaking objectives attached to this skate.


Skaters are encouraged to meet new people and talk to each other about their favorite skate shop, skating club, and sponsors.
More Information
For more information About the Melbourne Social Skate contact learn2skate@yahoo.com.


---

Related Links
IMAX Theater in Carlton Gardens
2003 Orange Great Melbourne Bike Ride.



Inline Skate Shop
Roller Skate Shop