Roller Derby Books
Roller Derby Videos
---
Naked Aussies in Colombia
Australian National Speed Skating Team


This photo of the Australian national speed skating team was taken during the 2000 World Speed Skating Championships in Barrancabermeja, Colombia.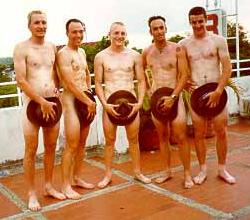 Copyright © Bont Skates


The skaters from left to right are: Russel Harvey, Michael Byrne, Ricky Bryant, Gary Ryan, Corey Price. The picture weas taken on the roof of their hotel by (believe it or not) the mother of Corey Price! The photo is reprinted here with permission from Mrs. Price and Bont Skates of Australia.

From Sara Bont in 2000:
"Russel Harvey is a Queensland boy, who is currently training in South Australia with Ricky Bryant. Michael Byrne is from the southern state of Victoria, he coaches as well as training at world level and attending university and part time work. Gary Ryan is a Queenslander who moved to Perth, Western Australia to train on Australia's only 200m banked track. Cory Price turned senior last year, he's an awesome sprinter, quite shy ...(so how did he get talked into this pic???) .. by his mum who also attended worlds. Cory is from New South Wales where he trains on a 124m indoor banked track. His girlfriend is the unbeatable junior sprinter, Sophie Muir.".


---

Related Links
More Photos of Naked Skaters
More About Skating in Australia.
Bont Skates Home Page

---
Skating in Africa | Skating in Asia | Skating in Europe | Skating in Oceania | Skating in The Americas
Inline Skate Shop
Roller Skate Shop