Roller Derby Books
Roller Derby Videos
---
Theresa Cliff Ryan Skating for the ZRC Zandvoorde
Keshia van Gaeveren - Theresa Cliff Ryan - Tine Jonckheere
A heartwarming story of how a world-famous inline speed skating champion graciously came to the aid of two young skaters from Belgium at the 2004 Padova Grand Prix in Italy and MADE THEIR DAY (we love you Theresa... and way to go Keshia and Tine!)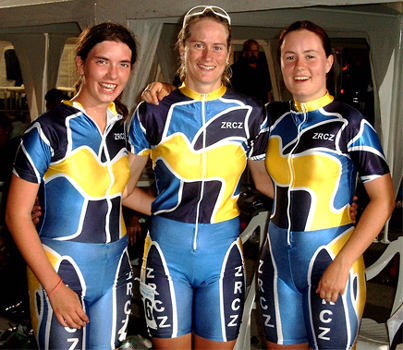 Copyright © Zwaantjes Roller Club
Next Photo -->
In August of 2004, seventeen year old Keshia van Gaeveren and Tine Jonckheere from the Zwaantjes Roller Club in Zandvoorde, Belgium were in Italy for the 2004 Padova Grand Prix which took place August 24-27, 2004. The girls did very well at the event but what really sent them over the top with excitement was what happened at the relay competition.

The Girls Have a Problem
The Zandvoorde skating club only sent two female athletes to the Padova Grand Prix and they needed a total of three skaters to participate in the relay race.

Keshia Has an Idea
This problem was no problem for Keshia. Because her skating club is one of the oldest speed roller skating clubs in the world, and because her parents have always been very involved in the club and have helped to organize several European and world championship skating events, she grew up rubbing elbows with many of the top skaters, coaches, and judges in the world. Keshia was looking for a third relay race skater when she came across Theresa Cliff Ryan... the woman who has won more gold medals at the inline speed skating world championships than any other skater in the world.

Theresa Says Yes!
So... Keshia asked Theresa if she would consider being the third person on the ZRC relay team and Theresa said.... YES!!! And the Team from the ZRC won the race!

Girls Go Home Happy...
Keshia and Tine were so excited after the 2004 Padova Grand Pix because not only did they do very well at the event but they skated a race with world famous Theresa Cliff Ryan as a teammate and in doing so, their team won the gold medal.


---
Related Links
History of the Zwaantjes Roller Club
Theresa Cliff Ryan Bio and Photos
Skating in Belgium
Skating in Italy
---
Skating in Africa | Skating in Asia | Skating in Europe | Skating in Oceania | Skating in The Americas
Inline Skate Shop
Roller Skate Shop