Roller Derby Books
Roller Derby Videos
---
Borneo Skating Competition 2004
In the Country of Brunei on the Island of Borneo
On June 19-20, 2004 there will be an aggressive inline contest in the country of Brunei called the "Borneo Skating Competition 2004" and it will take place at the aggressive skate park located inside Jerudong Park. The competition will begin at 8:00 pm on Saturday June 19 and it will begin at 2:00 pm on Sunday, June 20. Jerudong Park is located about 30 minutes from the city of Bandar Seri Begawan in the Brunei-Muara District.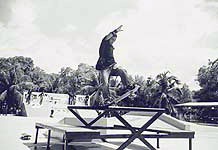 FROM THE EVENT ORGANIZERS


Skating enthusiasts are now invited to participate in the "Borneo Skating Competition 2004". This exciting event is open to everyone and competition is divided into 'Advanced' and 'Beginner' categories.

According to the organiser, Pg Hj Redzaini Pg Hj Ahmad, the 2-day competition will kick start on June 19. The event will be held at the Skate Park of Jerudong Park. On Saturday, the competition will start on 5pm while on Sunday, the event is scheduled to start at 2pm.

Pg Hj Redzaini highlighted that participants who are aged 15 and below will compete in the 'Beginners' category.

Every participant will have to pay an entrance fee of $10 and forms can be obtained at the Uneek Skate Shop at Unit 27, Bangunan Lim Eng Ming, Ground Floor, Block D, Simpang 88, Kg Kiulap just opposite of the D'Fountain cafe. The organiser also pointed out that entry forms would also be available on the day of the competition.

The five different stages for this skating competition are the Ramps Open Competition, Big Air Competition, Highest Ollie Competition, Best Trick Competition, Special Event and Game of Skate. Among the main sponsors for this event are Redza Driving Company, Uneek Skate Shop as well as Kuzie Trading Company.
---
Related Links
Skating in Brunei - Main Menu
Skating in 100 Countries
All Skating Articles
Translate Any Web Site or Phrase
---
Skating in Africa | Skating in Asia | Skating in Europe | Skating in Oceania | Skating in The Americas
Inline Skate Shop
Roller Skate Shop