Roller Derby Books
Roller Derby Videos
---
P'tit Train du Nord Linear Park
An 88 Kilometer Paved Trail in Quebec, Canada
Copyright Motel Ours Bleu




Paved Trail: 88 KM (55 miles)
Entire Trail: 200 KM (124 miles)
Surface: Paved with Asphalt
Southeast End: Saint Jerome
Northwest End: Mont Laurier
Entry Fee: $5 trail day pass


A 200 KM path through picturesque Laurentian villages. Runs northwest from Saint Jerome through the Laurentian Mountains to Mont-Laurier. Fromer railway stations (gares) have been renovated into comfort stops with toilets and sometimes cafes, shops, and tourist kiosks. The trail has markers every kilometer indicating the distance from Stl Jerome, in kilometers. Opened in 1996. 400,000 cyclists per year Used by cyclists and skaters in the summer and skiers in the winter for ? Quebec trail passes can be purchased at several of the old railway stations along the trail ($5 for a day pass or $10 for a season pass).
Divided into four sections, the park offers several possibilities. The cyclists however seem to favorise the section of Rivière-du-Nord and Pays-d'en-Haut, situated between the cities of Saint-Jérome and Val-David. The 80 KM ride between these two municipalities gives to see several beautiful mountainous landscapes. You will have the possibility of bathing in the lake Raymond ( Val-Morin) and of contemplating the beautiful rail stations of neogothic style. If most of these buildings were reconstructed during 1990s, those of Prévost and Mont-Rolland, built respectively in 1898 and 1904, always contain their original structure. Crosses the most popular tourist region in Quebec, Canada. Built in the bed of the former "Laurentides" railroad line. Quebec's most popular bikeway Bordered by lakes, rivers, and mountains. Runs through towns and villages untouched by passage of time Removated former railway stations for food and rest The trail is 200 kms long P'tit Train du Nord linear park that runs through the Laurentians. This park is ideal for cycling in summer and cross country skiing in winter. From our convenient location discover the natural beauty of the Laurentians, including picturesque sights such as the beautiful Rivière du Nord, the waterfalls, the marshes, the open hills and valleys surrounded by lush forests filled with wildlife in its natural habitat. You'll want to go hiking, cycling or cross country skiing

Distances (Southeast to Northwest)
000 km - St-Jerome
021 km - Piedmont
025 km - Mont Rolland
033 km - St-Adele
037 km - Val-Morin
042 km - Val David
046 km - Ste-Agathe (South)
049 km - Ste-Agathe
055 km - Ivry-sur-le-Lac
070 km - St-Faustin
080 km - St-Jovite (South)
082 km - St-Jovite (North)
091 km - Mont Tremblant
093 km - La Conception
107 km - Labelle
127 km - L'Annonciation
134 km - Marchand
145 km - Lac Nominingue
163 km - Lac Seguay and Motel Ours Bleu Inn
175 km - Beaux Rivages
187 km - Val-Barrette
200 km - Mont Laurier

Points of Interest Some of the old railway stations have historical exhibits. Mont-Tremblant is a massive four-season resort with all types of outdoor activities. The northern section of the trail is in a more wilderness location giving a better chance of viewing wildlife. In the north there are also signs describing the history of the region at many of the rest stops. Since the trail opened in 1996 many of the old railway stations have been restored and converted into rest stops and historic museums

History of the Trail
FROM A RAILWAY TO A LINEAR PARK: Le P'tit Train du Nord make its last passenger journey on November 15, 1981 and the last freight train ran in 1989. Due to collective efforts from 1987 onwards, the Linear Park was inaugurated in 1996 Le P'tit Train du Nord Railway was the dream of the legendary Saint-Jérôme priest Antoine Labelle. It was also the hope of the colonists who came to open new parishes. The P'tit Train du Nord was an incentive to develop the tourist industry in the Laurentians. The arrival of the first trains created holiday villages. The unprecedented success of the P'tit Train du Nord reached a peak between 1920 and 1940 when Canadian Pacific innovated with "snow trains". Montreal skiers, eager for nature and fun, now had the opportunity to take the train every weekend heading for the Laurentians to ski, the new "in" sport.
Jocelyn Vachet Geocities Page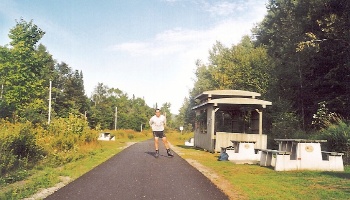 Copyright Motel Ours Bleu



The Laurentians Mountains
The Laurentians span from the Lanaudière Region in the East, to the Outaouais Region in the West; from the Miles-Îles River in the south, to the Northern wilderness where places named Petawaga, Le Sueur, Mitchinamécus, Normandie and Mazana, recall an indigenous heritage, the Laurentians encompasses some 22,000 square kilometres. Topographically, the region is divided into two (2) areeas each of which have developed activities suited to its existence. The Lower Laurentians, which is part of the Saint-Lawrence Valley, includes the Laurentian Plateau just North of Saint-Jérôme.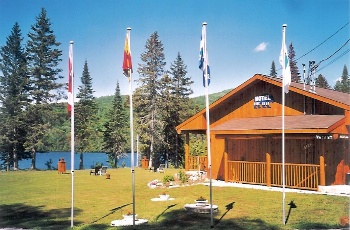 Copyright Motel Ours Bleu



A Friendly Inn on the Trail
Motel Ours Bleu at Lac-Saguay
new and swiss owned hotel
(at the Mont Laurier end of the trail)
(on a island in the middle of Lake Saguay)
(29 kilometers from Mont Laurier)
(198 Kilometers from Montreal)
(Cycling an rollerblading (trail) P'tit train du Nord.
88km asphalt
From Lac-Saguay:
40km is paved to the north
Related Links
CanadaTrails.ca
---
Skating in Africa | Skating in Asia | Skating in Europe | Skating in Oceania | Skating in The Americas
Inline Skate Shop
Roller Skate Shop