Roller Derby Books
Roller Derby Videos
---
German Skates 280 Kilometers per Hour
New World Record for Skating Behind a Motorcycle
by Alexander Bont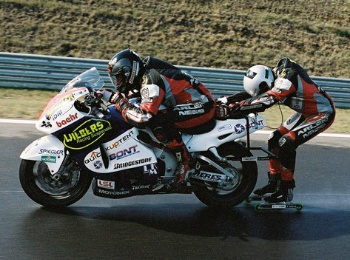 Copyright © Alexander Bont
In September of 2003, at the Lausitz track near Berlin in Germany, Jürgen Köhler set a new world inline speed record of 281.25 kilometers per hour holding onto a Suzuki Hayabusa. The skates he was wearing were custom built in Campsie in Sydney by the worlds largest producer of hand made speed skates, Bont International. The carbon fiber boots, aircraft aluminum frames and ceramic bearings are worth a cool $8500.

Although weather conditions were quite unstable, Köhler decided not to let all the planning go to waste and still attempted the record.

Water on the track forced them to make about 20 passes before they could break their own record. On their way to success one on-board video camera came loose and just millimeters separated Köhler from a life threatening disaster. "Circumstances just are not good enough today, you should try it another time...." was a typical phrase heard on that rainy day. But Jürgen Köhler was itching to break the record. Again and again the two adrenalin junkies made their way with about 220 kilometers per hour through the steep curve before the 217 horse power motorbike exploded to give Jürgen maximum acceleration as soon as the track straightened.

Than the next shock: The Haybusa caught fire and forced them to make the next attempt late in the afternoon. The mechanics took their time fixing the Suzuki and adjusted the bike for to suit the track and the conditions. The final run: Starting with a burnout, Geulen put maximum stress on Köhler and the material but this time the record was no longer a dream: 281.25 kilometers per hour! A new record was born. It took some time for the record to sink in.

Köhler says he would like to break 300 kilometers per hour in Sydney early in 2004. Bont International is now seeking a suitable venue.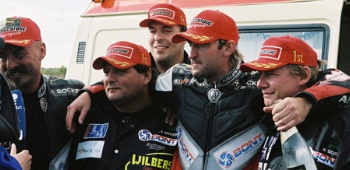 Copyright © Alexander Bont
---
Visit Our 12 Skating Forums

Forums for discussing aggressive, artistic, beginning, hockey, fitness, recreational, roller basketball, roller derby, roller dancing, rollersoccer, quad skating, slalom skating, and speed skating.
---
Related Links
Bont Skates of Australia
Skating in Germany
Speed Skating
---
Skating in Africa | Skating in Asia | Skating in Europe | Skating in Oceania | Skating in The Americas
Inline Skate Shop
Roller Skate Shop