Roller Derby Books
Roller Derby Videos
---
Claus Hechmann Sets New 1 Hour
August 29, 2002 - Slagelse, Denmark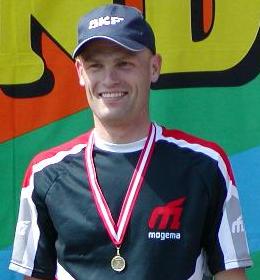 Claus Hechmann at Faxe Kondi LÝbet 2002
Photo reprinted with permission from Brsk.dk
Claus Hechmann of Denmark is now the fastest man on Earth, for one hour of unpaced solo skating on a stretch of road.

Danish skater Claus Hechmann of Team Mogema and the Slagelse Inline Skating Club established a new world's record on August 29, 2002, for the longest distance skated in one hour of solo, unpaced road skating.

Claus Hechmann skated 36.120 kilometers. beating the previous record of 34.820 kilometers established by United States skater Eddy Matzger. The new world record was set on a 770 meter stretch of road in Slagelse, Denmark, under the control and supervision of the Danish Athletic Federation and the Danish Rollerskating Organization.
---
Related Links
Slagelse Inline Skatign Club

Guide to Skating in Denmark
Translate Any Web Site or Phrase
---
Skating in Africa | Skating in Asia | Skating in Europe | Skating in Oceania | Skating in The Americas
Inline Skate Shop
Roller Skate Shop