Roller Derby Books
Roller Derby Videos
---
Future Skating Champions in Faridabad
A 2003 Beginner's Competition in India
Article by Saurabh Duggal
Skating Coach, Gymkhana Club, Faridabad, India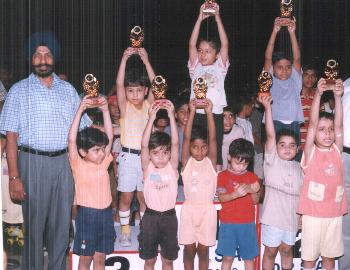 Copyright © Saurabh Duggal


2003 Faridabad Competition for Beginners
The 28th Faridabad Beginner's Competition was held in June of 2003. Seventy-seven skaters took part in the competition, and there were five groups each in the boys and girls sections. All of the young skaters were excited and in good spirits during the event. Mr. L. S. Bajwa, the association president, Mr Verma, and many of the top national-level skaters of Faridabad were at the event, to witness first competition of some future champions. The enthusiasm, high spirits, and accomplishments of these young beginning skaters made it easy to see that many of them will rise to a high level in near future. This competition was a first stepping stone in these young skaters road to success and future glory in field of roller skating.

About the Faridabad Beginner's Competition
Every year the Parental Skating Body of Faridabad (DRSA) organizes a beginner's meet for the very newest skaters. In this beginner's meet, there are not only 1st, 2nd, and 3rd place prizes, but all of the participants receive prizes. This boosts the enthusiasm of the new skaters and encourages them to stick to skating, and one day become new Indian champions at the national and international level.

First Banked Track in India
Faridabad is one of the most important places on the skating map of India, because it is the home of India's first banked skating track and roller skating rink, and it was the host city for the the camp of Indian team for the 7th and 8th Asian championships. In 1997 and 1999. Faridabad also hosted the 38th National Indian Roller Skating Championships and the 1st and 2nd CBSE Schools National Skating Championships.

Faridabad Produces Champions
Faridabad has produced about 150 national-level skaters and those skaters have won nearly 100 gold, silver, and bronze metals at the National Championships. Credit for those accomplishments goes to the government skating coach in Faridabad, Mr. John David. His superior coaching skills and well developed tournament structure has placed Faridabad in a very prominent position in Indian skating.
---
Related Links
More Articles About Skating in India
Skating in India - Main Menu
Travel Guide for India
---
Skating in Africa | Skating in Asia | Skating in Europe | Skating in Oceania | Skating in The Americas
Inline Skate Shop
Roller Skate Shop