Roller Derby Books
Roller Derby Videos
---
The First Banked Skating Track in India
by Saurabh Duggal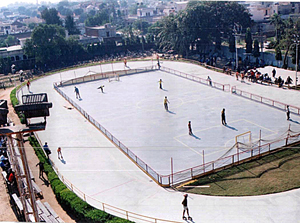 Copyright © Saurabh Duggal
---
The Man Who Gave India Its First Banked Track


Dr. Arya Vir Bhalla, Principal of India's D.A.V. Public School, Sector-14, is the person behind India's first banked track skating rink. This multifaceted personality is not only a renowned academician but is also a well known sports administrator and follower.

In the year 1997, D.A.V. Public School, sector-14, built India's first banked track skating rink. The facility is not only limited to the skaters of the school, but any skater in India can avail themselves of the facility. This infrastructure has given a new dimension to skating in India and especially to the sport of inline speed skating. The D.A.V. Public School Track is the first banked inline speed skating track in India which meets international standards.

Dr. Arya Vir Bhalla is not only a noted educationist but has done a lot to promote the sports. For his tremendous and selfless efforts in promoting sports he has been awarded the highest sports award by the Haryana Government "Bhim Award", by his excellency, Governor of Haryana in year-1993. Apart form this he has been awarded several times for his work in the field of Education and society building.

Born on 2nd November-1945, in village Patti, district Amritsar, Punjab, Dr Arya Vir Bhalla has raised his level of excellence and potential at every moment and gets the desired results and target, which he has set for himself. From the last 32 years he is serving the society by providing the best educational institutes to the city and placing himself as the source of inspiration for many.

Some of his important feathers in his cap are:


Bhim Award-93
State Award- Thanks Badge-94
Arch of Excellence Award-95
Udyog Gaurav Award
Achiever of the Millinium-99
Excellence Award-99
Man of the year by the American Biographical Institute, USA.
Shishka Ratan Award-2003
---
Facts About the Track
The track has been used by the skaters of India since August of 1997.


Dimension: Track is 131.33 mts long and 5 mts wide. Inside the skating track there is a roller-hockey ground measuring 20 X 40 mts.
---
Important Events Hosted by the Track
In August-1997, Roller Skating Federation of India organised an India speed camp for the 7th Asian Championship held in South Korea.


In July-99, the camp for the world speed skating championship, France, held in this rink.


In October- 99, the rink hosted the camp for the 8th Asian roller Skating championship, which was held in China.


In December-2000 the rink hosted the 38th National Roller Skating Championship.


In year-2001, the Indian Speed camp for the 9th Asian roller skating championship, Taiwan, was held in this rink.


In year-2001, the rink witnessed the roller hockey match between India and England.


In year-2002, 1st C.B.S.E. schools speed skating championship was held in this rink


In year-2003, 2nd C.B.S.E schools speed skating championship was organised in this rink.


In December-2004, 42nd National Roller Skating championship was organised in Faridabad and D.A.V. Public School, sector-14 was the joint venue of the championship with Sports Complex, sector-12, Faridabad.


Recently it has hosted the speed camp for the 11th Asian Roller Skating Championship, which was held in South Korea from 11th to 15th May-2005.


Apart from these above championship the School has hosted many district and state level tournaments.
This rink has not only given an International level infrastructure to Faridabad but has played a very crucial role in promoting the game in India. Many skaters were benefited because of this rink and it played an instrumental role in placing numbers of skaters at level where they can bring laurels for the game and country.


---
Photo Gallery
---
Visit Our 12 Skating Forums

Forums for discussing aggressive, artistic, beginning, hockey, fitness, recreational, roller basketball, roller derby, roller dancing, rollersoccer, quad skating, slalom skating, and speed skating.
---
Related Links:
Skating in India - Main Menu
Skating in 100 Countries
Translate Any Web Site or Phrase
---
Skating in Africa | Skating in Asia | Skating in Europe | Skating in Oceania | Skating in The Americas
Inline Skate Shop
Roller Skate Shop