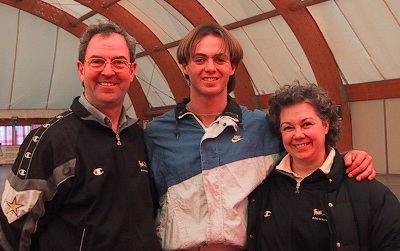 Owners Mario, David, and Elvia Vitta (son Nathan is not pictured)



The Palajolly Roller Palace in Trieste, Italy is a complex of buildings in a beautiful location, high on a hill, near the Nereo Rocco Soccer Stadium and the Trieste Sports Center/Concert Hall. The Palajolly facilities include an indoor roller skating rink, an outdoor rink, a cafe, a lovely little chapel that came with the property, and a gymnasium for weight lifting, stretching, dance classes, and gymnastics training. The rink is a family-owned business, founded in 1973 by Guiseppe Levi, father of the current president Elvia Levi Vitta.


Select each photo to view a larger image

The Indoor Rink

The Indoor Rink (Antonio Merlo, coach of the Italian National Team, working with a student).

The Outdoor Rink (former world champion Sandro Guerra is on the left)

The Outdoor Rink




The Cafe

The Chapel




View from the outdoor rink

View from behind the cafe

Select each photo to view a larger image
In Winter and Summer, Palajolly hosts an international artistic skating workshop, and in November or December of each year they produce a spectacular artistic skating show for an audience of more than 6,000 spectators. If you have always wanted to visit Italy, consider planning a trip around one of these events. And if you do, be sure to let the owners of Palajolly know about your plans. The Vittas are warm and friendly people, who made me feel very welcome when I attended their workshop in February of 2001.