Articles, reports, and photos of the Nairobi International race on June 8, 2003 in the city of Nairobi, Kenya.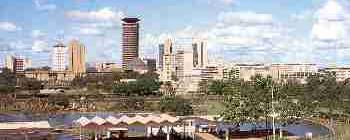 Original Event Announcement
The 2003 Nairobi Inline Race was originally scheduled for June 8, 2003 but it was moved to later in the year.

Announcement with More Information
Information about the race course, event program, racing schedule, history of the event, the athlete village, race location, security, organizers, registration, entry fees, awards racing categories, accommodations for skaters, officials, spectators, and media.

Event Moved to November 23
The 2003 Nairobi Inline Race took place on Sunday, November 23, 2003. Here is the updated announcement.

Details About the November 23 Race
Information for spectators, officials, coaches, and competitors at the 2003 Nairobi Inline Race.

Results of the November 23 Race
Top male and female finishers at the 2003 Nairobi Inline Race. Inlcluses results of the following events: 21k half marathon, 200 meters 1000 meters, and 5000 meters.

See also:
---
Visit Our 12 Skating Forums

Forums for discussing aggressive, artistic, beginning, hockey, fitness, recreational, roller basketball, roller derby, roller dancing, rollersoccer, quad skating, slalom skating, and speed skating.
---
Related Links
Skating in Kenya
Skating in Africa
Skating in 100 Countries