Roller Derby Books
Roller Derby Videos
---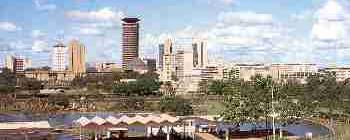 The Kenya Confederation of Roller Skating (KCRS) is celebrating its fifth anniversary in 2002, and as part of their celebration they are hosting the Nairobi Inline Speed Tour on June 29 in Nairobi, Kenya. The event is being produced by the International Roller Sports Federation (FIRS), the Kenya National Sports Council, and the Kenya Confederation of Roller Skating.

African Festival and Party
The event will be an all-day celebration with races in the morning, acrobats, dancers, and other entertainment throughout the day, and fireworks and live music at night.

Background
Kenya's first inline marathon was held in 1989 to raise funds for building a home for street children. Between 1989 and 1998 they hosted several long-distance marathons, and in June of 1998 they held the first annual speed skating event in Nairobi.

These speed events have been held in the Moi International Sport Complex Center, where the 4th All-Africa games were held in 1987.

The Kenya National Speed Team
The Kenya national team participates in speed skating events all over the world and their 2002 schedule includes the World Championships in Belgium in August, the Berlin Marathon in September, and the Long Beach California Marathon in October.

Charity Events
Skaters in Kenya and the Kenya Federation have been very involved annual fund-raising events, such as the International "Sports not Drugs" campaign, the Anti-Ivory Campaign, and World Aids Day (UNAIDS).



Details of the 2002 Race


The Route
The 26 km route will start in downtown Nairobi at the Kenyatta International Conference Center (KICC). It will proceed along the Uhuru Highway and Waiyaki Way, and will finish at the KICC starting point.

Who Can Participate?
The 15 km fitness skate and the 3.5 km fun roll are open to all skaters. Participants in the 26 km marathon and the other speed skating events must be members of their country's roller sports federation. There are no age limits for the fitness and fun roll events, but participants in the other events must be between 18 and 50 years of age.


Schedule
Time


Category


Distance
09:10


Senior/Junior Men


26 KM
09:15


Senior/Junior Women


26 KM
10:30


Fitness


15 KM
11:30


Senior/Junior Men
Senior/Junior Women
Senior/Junior Men and Women


5000 M
5000 M
2500 M Relay
12:30


Fun Roll


3.5 KM
16:00


Awards Ceremony
19:30


Spaghetti dinner and the best
of Kenyan traditional food


Registration Schedule
The organizers in Kenya are asking participants to register for the event by May 30, because this will allow them to get the best prices for accommodations. Skaters who register after May 30 will be referred to alternative accommodations.

Tour Package and Registration Fees
The cost of a 3-day tour package is $460 USD, which includes accommodations at the Holiday Inn Hotel in Nairobi, race registration, and all meals, but it does not include air transportation to Kenya.

Participants should plan to arrive in Kenya on June 27. On June 28 visitors will be given a tour of Nairobi with visits to the National Museum, the National Park, the giraffe center, an ostrich farm, and much more. The race and an all-day celebration will take place on June 29, and June 30 will be a relaxing day at the Nairobi water park with water slides, a half-pipe for aggressive skaters, camel rides, and music.

How to Register
The deadline for registration is June 20, 2002. To register for the event send a fax or email to:
Mr. Jack Njorge
Fax: 254.2.242526
Email: tizipoa@hotmail.com
Information about accommodations, meals, transportation, and the race details will be given to participants when they arrive in Kenya.

What to Bring
You should bring all of your protective gear, including helmet, wrist guards, knee pads and elbow pads. You will also want to bring a camera and binoculars for observing wildlife at Kenya's beautiful game parks.

Organizing Committee
- Kenya Confederation of Roller Skating (KCRS)
- Philip Kiura, Chairman of the KCRS
- Jack Njoroge, KCRS Speed Skating Director
- Ali Kilanga, Wheels Skating Club
- Celestine Wamiru, Wheels Skating Club

Prizes
There will be medals for the top 10 finishers a special cup for the top male and female finishers in the 26 km event. The overall top 3 men and women finishers in the Nairobi Speed Tour will receive a free 3-day trip to the Town of Mombasa on the Coast of Kenya. These trips will include airfare, hotels, meals, and a tour of Mombasa. That means top three men and women will be in Kenya for 6 days: 3 days for the competition and 3 more days on a holiday in Mombasa.

More Information:
Contact: Mr. Jack Njorge
Fax: 254.2.242526
Email: tizipoa@hotmail.com
---
Visit Our 12 Skating Forums

Forums for discussing aggressive, artistic, beginning, hockey, fitness, recreational, roller basketball, roller derby, roller dancing, rollersoccer, quad skating, slalom skating, and speed skating.
---
Related Links
Skating in Kenya
Skating in Africa
Skating in 100 Countries
---
Skating in Africa | Skating in Asia | Skating in Europe | Skating in Oceania | Skating in The Americas
Inline Skate Shop
Roller Skate Shop