Roller Derby Books
Roller Derby Videos
---
2003 Nairobi Inline Race
November 23, 2003 in Kenya, Africa
The committee of the "Nairobi inline 2003" race invites you to enjoy their country's most scenic and exciting inline skating event on Sunday November 23rd, 2003.The 2003 Nairobi inline race includes events for seniors & juniors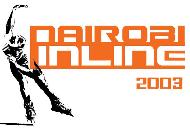 The Course
The event will be held on Kenya's most scenic exciting inline skating route. The 42km marathon route begins at Nairobi City hall way and continues along Mombassa road, langata road, and finishing back at City hall way. A rout map of the the course can be found on the official web site to be launched very soon !

The History
The same committee in the beautiful city of Nairobi had organized last year, in June 2002 Nairobi race. Success was great so they decided to start working hard to get to organize this International race off the ground. We're sure we have the support of the whole city of Nairobi to create an exciting sport festival.

The Village
A "village" will be set up in the middle of the city center of Nairobi that will be the logistical center of the event. There will be catering services with meals for athletes and staff, plus product exhibitions quarter pipe for aggressive skating exhibitions, plus prize giving and exciting shows. Approximately 3000 to 5000 people are expected to attend the opening ceremony.

Categories and Events
Seniors (Men and Women)
200 Meter Time Trials Race
5000 Meter Inline Race
42 Kilometer Marathon
Juniors (Men and Women)
200 Meter Time Trials Race
5000 Meter inline race
42 Kilometer Marathon

Fun Races
Also kid's races will be available and fun races cycling, wheel chair and running

Location
The location is Nairobi, the capital city of Kenya. It is approximately 15 Minutes from Jomo Kenyatta International Airport, The venue of the event is at Kenyatta International Conference Centre (KICC), main race start at city hall way.

Security
Safety is our number one concern: Organizing committee has plans in place to guarantee tight security on the occasion; in addition, we have joined hands with the traffic police section of Nairobi for sufficient security for the races. Also we have adequate ambulances and medical personnel In case of emergencies.

Registration
Any good skater, in the world can register for this Nairobi inline 2003 race. In order secure accommodation all participant (athletes & captain) are requested to register by November 15th, 2003. Registration received after this date will be referred to alternative accommodation.

Entry Fee

inline races 25 USD
Fun sport & kid races 3 USD
All payments should be made on the morning of Friday November, 21st 2003 at the Secretariat Office of the Nairobi inline organization at Pan-Afric Hotel.

Accommodations
Official Hotel: The Panafric Hotel
Rates:
Single Room US$ 165.00 for 3 days per person
Double Room US$ 113.00 for 3 days shared per person
Triple Room US$ 95.00 for 3 days shared per person
This price includes bed, breakfast, and dinner.
Lunch is available for $7-13 USD.
The organizers will provide transport for the transfers:

Awards

There will be Gold, Silver & Bronze medals for the top three finishers overall, and there will be cash prize for the top 3 finishers in each category. All finishers will receive a certificate of participation.

The media

It is certain that the entire capital city of Nairobi will be focused on this event, and on race day it will be the main attraction in the city. The publicity agency for the race has assured full coverage of the occasion by contact all of the local and international TV and radio station and all local and international newspapers.

Contacts
Mr. Jack Njoroge, Race Representative
Mobile phone +254 733 736076
Email: nairobimarathon@hotmail.com
or skatingevent@hotmail.com
Fax 254 020 242526

2003 Nairobi Organization & Its Committee
Po Box 00200-57741
Nairobi, Kenya

Ms. Cleo Mbeo
Event secretariat

Carol Gitonga
Event assistance



Join the fun!


The Nairobi race committee is planning to make the 2003 event more spectacular and exciting than all of their previous events, and they invite the entire global skating community to participate in this race and visit one of the greatest tourist destinations in Africa.

Special Thanks to!
SkateGrrl.com
SkateLog.com
RollerSports.org
SpeedSkating.com
AccessKenya.com
Bont.com
EmpireSpeed.com
World-Inline-Cup.com
Government of Kenya
Traffic Department of Nairobi
FIRS C.I.C Committee
African Confederation of Roller Sport



Join the fun!
---
Visit Our 12 Skating Forums

Forums for discussing aggressive, artistic, beginning, hockey, fitness, recreational, roller basketball, roller derby, roller dancing, rollersoccer, quad skating, slalom skating, and speed skating.
---
Related Links
Skating in Kenya
Skating in Africa
Skating in 100 Countries
---
Skating in Africa | Skating in Asia | Skating in Europe | Skating in Oceania | Skating in The Americas
Inline Skate Shop
Roller Skate Shop