Roller Derby Books
Roller Derby Videos
---
Help Lithuanian Skaters Reclaim Vingis Park
July 10-11, 2004 in Montreal, Canada
The skaters of Lithuania want to reclaim Vingis Park in the city of Vilnius for skaters, cyclists, and pedestrians. They want the city to clean up the park, repave the trails and reverse their recent decision to re-open the park to motorized traffic. Skaters around the world can help with this campaign by sending letters and email to the city of Vilnius.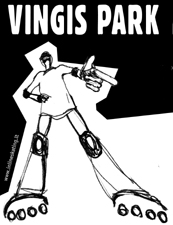 ---



A SPECIAL REQUEST FROM THE
VILNIUS THURSDAY NIGHT FEVER
SKATING CLUB IN LITHUANIA


Lithuanian inline skaters need assistance of fellow skaters from all around the globe. At the moment our club has started a new initiative to reclaim Vingis Park. This park is the main park in Vilnius, Lithuania. It is located not far away from the city center and could be the ideal place for inline skaters, bicyclists, joggers and other folks who sometimes want to escape from the noise of the jammed city streets. There is one problem, though. For several years now the park has been simply forgotten by the municipality of Vilnius. Due to the symbolic maintenance of the park most bicycle and pedestrian paths deteriorated over time and now are in extremely bad conditions that it is almost impossible to skate.

A new private restaurant opened in the middle of our park a couple of years ago. During those two years the restaurant kept expanding and building new attractions in order to get more customers. Eventually the owners of this joint obviously pulled the right strings and the municipality of Vilnius decided to open the park for car drivers. Last autumn they took away traffic signs that banned traffic in the park, so now it's a common sight to see cars driving in the park.

Today skating scene is not very big in Vilnius and it might shrink even more if we don't reclaim our park ! We cannot afford to lose Vingis park ! That's why we've been sending e-mails to the municipality of Vilnius and we've urged other people to support our action ! We think that some international support would also be very helpful, that's why we ask you:


Send a message to the municipality of Vilnius and express your concerns regarding Vingis park (send email to e.vicemeras@vilnius.lt with a copy to tnf@omni.lt)


Post this information on your Web sites and forums and urge other inline skaters support the skaters of Vilnius (if you would like a full size flyer to distribute or post on your Web site send an email request to tnf@omni.lt).


Share this article with skating organizations and individuals around the world.
With best regards,

- Audrius Sapola
- Vilnius, Lithuania
- Email: tnf@omni.lt
---
Related Links
Skating in Lithuania
Skating in 100 Countries
---
Skating in Africa | Skating in Asia | Skating in Europe | Skating in Oceania | Skating in The Americas
Inline Skate Shop
Roller Skate Shop