Roller Derby Books
Roller Derby Videos
---
A Yucatan Roller Rink and Speed Skating Track
This roller skating rink and inline speed skating track in the Yucatan region of Mexico is used by members of the Mexican National Skating Team for many of their practice sessions. Thank you to Tamara Campos, President of the Mexican Artistic Roller Skating Federation, for sharing this picture. Her artistic team practices in the roller skating rink in the center of this facility.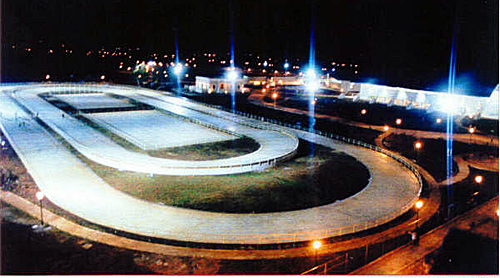 Copyright © Tamara Campos Medina
See Also
More Places to Skate in Mexico
Artistic Roller Skating in Mexico
Inline Speed Skating in Mexico
Visit Our 12 Skating Forums

Forums for discussing aggressive, artistic, beginning, hockey, fitness, recreational, roller basketball, roller derby, roller dancing, rollersoccer, quad skating, slalom skating, and speed skating.
---
Related Links:
Skating in Mexico - Main Menu
Skating in 100 Countries
Translate Any Web Site or Phrase
---
Skating in Africa | Skating in Asia | Skating in Europe | Skating in Oceania | Skating in The Americas
Inline Skate Shop
Roller Skate Shop