Roller Derby Books
Roller Derby Videos
---
A Racing Holiday in the Netherlands
by Mims Rogers

United States skater Mims Rogers of the Atlanta Peachtree Road Rollers skating club in Atlanta talks about night skating in Amsterdam and Haarlem, skating in Vondel Park, and competing in his first Dutch inline skating race in Alem.


---
A USA SKATER'S DUTCH RACING HOLIDAY
by Mims Rogers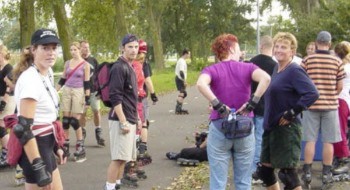 The Haarlem Night Skate

Copyright © Mims Rogers



My wife, Jenny and I were planning a vacation, and we decided to go on a trip to Europe. Through our local skate club, the Atlanta Peachtree Road Rollers, we heard that Holland (The Netherlands) was a great place to skate and that there would be many skaters to have fun with. Amsterdam, like many other major European cities, has a large Friday Night Skate. We started researching the Holland skating scene online and found there was a competitive racing series and the championship race was going on the weekend we would be there. I thought, "Why not race?"

Making Plans for the Trip
I sent email to the race organizers, asking how to enter the race and where it was happening. The people at SkateBond.nl were very helpful, informing me that all I had to do was go to the Village of Alem and pay 15 Euros to enter. After much research, we determined that if we were going to make the race, we were going to have to "wing" it. I was beginning to think that this would be a lesson in not telling a lot of folks that I was going overseas to a race when I really had no idea what I was doing!

Packing for the Trip
Jenny and I packed up and were on our way to Europe. I took both my recreational and racing skates, just in case we found Alem, while Jenny only took her four-wheelers. We carried our TransPacks (with the skates exposed) through the airport and one large-wheeled suitcase. We got a lot of looks from fellow travelers, but we felt very proud of where we were going and what we were going to do (or maybe it was just my stinky skates that were getting their attention)! After a long flight, we settled in the hotel and looked forward to having a nice vacation in Amsterdam.

Skating Vondel Park in Amsterdam
The next day, we walked to Vondel Park, where we were told all of the skaters in the city hung out. We didn't see much else other than a lot people walking and a ton of bicycles. It wasn't long before we saw two speed skaters who appeared to be skating laps. Luckily, they took a break near us and we approached them. I asked the girl, "Do you speak English?" She replied with a confident, "Of course!" I said that we were skaters and were interested in the Friday night skate and the race on Saturday. The skaters, Dorien and Andre seemed surprised that we knew about the race, but said that they were going to the race as well. We told them about our lack of plans to get to the race and they seemed a little unsure about how they were getting there, too. Then they mentioned that later on there was a night skate going in Haarlem, the next city over and that we should go. We enthusiastically said we would love to attend and got directions to Haarlem.


Copyright © Mims Rogers



Skating in the City of Haarlem
Haarlem is the industrial center for the northern part of Holland, yet the city is very old and quaint. We showed up for the Haarlem Night Skate and saw our new friends almost immediately. Nearly 300 people attended and we all skated for over an hour and a half. The route had great roads and wonderful views of the city at dusk. The skate ended at a skater pub that was packed, yet welcoming. This is where we met Dorienís boyfriend, Erik. Erik introduced himself just as we were leaving and said that he was working on a way for us to get to Alem for the race. How cool! He also invited us back to Vondel Park the next day for some training laps. Jenny and I made it back to the hotel tired, but excited about our trip so far.

Training With Friends in Vondel Park
On Thursday afternoon, we met Erik and Dorien at the park. Both are sponsored by the Italian skate company, Roces (which we later learned meant "roaches", as in cockroaches, the fastest land-creeping insect on earth). They were decked out in Roces casual gear and custom speed skates, or "skeelers", as they're known by the Dutch. After a brief chat, we all took off to rip around Amsterdamís most famous park.

About Dutch Skaters
Allow me to describe Dutch people a little bit. The men are tall. The women are tall. Those tall men and women are strong. Most of them have been ice-skating since they were children. In the summer, they skate on inlines and in the winter they all look forward to the "Eleven City Tour", which is a long and famous ice skate along the inland canals. Holland has the most competitive inline race series in Europe, and it is rare and intimidating for the non-Dutch to compete in these races. What I'm getting at is the Dutch are FAST on skates. Anyway, when we got going, it was soon very clear that we weren't in Atlanta anymore with Atlanta skaters! Erik is an up-and-comer in the Dutch racing series and was looking to advance to the A-category, with the pros. Dorien was quite fast, as well, but was a little more gracious about it! The training laps ended up being a tongue-dragging drop-fest. As a consolation, Erik and Dorien helped us order our dinner from an all-Dutch menu in a restaurant in Vondel Park.

The Amsterdam Friday Night Skate
The next night was the Amsterdam Friday Night Skate. Erik led! 450-500 skaters attended the two-hour skate through parts of Amsterdam that a regular tourist would never see. We glided down bike paths and through neighborhood streets as well as busy, tram track-loaded city streets. Erik took us on a fantastic route and gave us a map of the route as a souvenir. The evening ended at a skater-favorite outdoor restaurant/pub in Vondel Park where all of the staff wore skate t-shirts. This is where Erik and Dorien told us that they had found a ride for us to the race the next day.



The Race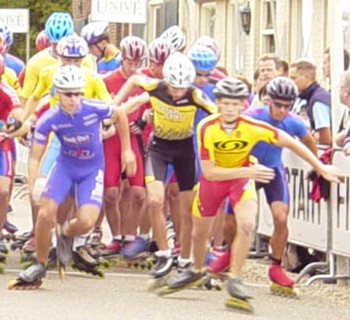 Copyright © Mims Rogers



On the day of the race, Erik and Dorien met us at our hotel and we were off to meet more skaters for the race. We all gathered at their friend Robertís apartment and hopped into two small cars and off we went. After and hour and a half, we arrived in the village of Alem. It was adorned in banners, scaffolding and plenty of spectators. The media had trucks and loud speakers all about.

The race route was scheduled for eight laps (40km) around the village, on the dike that surrounded it. This race was organized into A, B, C, Dames (women) and Veteran classes. I paid my 15 Euros and got my number. C-class, which I entered, was one of the first races, starting one minute after the veteran men. The loud speakers were telling us in Dutch to get ready, then a bang from the starting pistol and we were off! I stuck with the lead pack for about half of a lap, right behind all 6'5" of Andre, our friend. And then I was dropped and all alone in the famous and brutal Dutch headwind that was on the backside of the loop. I had brief encounters with other skaters that were dropping back, but I spent most of my time in a womenís pack, that started one minute behind us. They welcomed me in just like all of the other nice people in Holland had.

After my race was over, a ceremony was held for the Dutch national team who had won the silver at the World Championship race the week before. Then the A and B class racers took the line. Diego Betancour, a Colombian, was one of the stars who attended, as well as other big-legged Dutch skaters. We watched these amazing athletes from different parts of the loop and filmed a tight corner that was positioned just a few yards in front of the start/finish line, which made for some exciting passing footage. Shaun Thompson, an Australian won the race, edging out Cedric Michaud, a Frenchman. How did they find this tiny village?


My results? I stunk. I did miserably compared to all of the skaters crossing the finish line. I am more of a distance skater, A2A-style, with endurance, not speed, on my side. I was just getting warmed up when it was over! But it was a race and I competed. I can proudly say that I have raced in Europe.

We later ended up at Robertís apartment to celebrate Erikís 9th place finish in the B-class race. It was enough to advance him into the A-class! He was very excited and made sure we enjoyed a feast, Dutch-style: everyone had their own anchovy and tuna pizza!



Recommendations


If you are planning a trip to Europe, be sure to take your skates to Holland. Most of the Dutch speak English and are very friendly. The night skates are a great way to meet people and enjoy the sights. Unless you are a world-class racer, be sure you know how to accept massive defeat if you plan to race!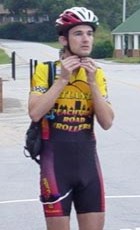 Author Mims Rogers
---
Visit Our 12 Skating Forums

Forums for discussing aggressive, artistic, beginning, hockey, fitness, recreational, roller basketball, roller derby, roller dancing, rollersoccer, quad skating, slalom skating, and speed skating.
---
Related Links
Skating in the Netherlands
Skating in 100 Countries
Translate Any Web Site or Phrase
---
Skating in Africa | Skating in Asia | Skating in Europe | Skating in Oceania | Skating in The Americas
Inline Skate Shop
Roller Skate Shop