Roller Derby Books
Roller Derby Videos
---
A Norwegian Skater's Adventures in Holland
by Franklin Eekhout of Norway
In the Spring of 2005 Franklin Eekhout of Oslo, Norway joined a 5-day inline skating skating tour of Holland organized by the Dutch Skate Fresh Tour Company. SkateFresh Tours are low-cost skating and camping tours that attract skaters from all over the world.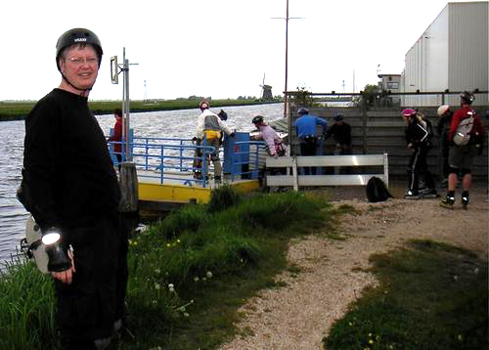 Copyright © Franklin Eekhout




A 5 DAY HOLLAND HIGHLIGHTS SPRINGTIME TOUR

by Franklin Eekhout


I am just back home from the SkateFresh Tulip Tour in the Netherlands. It was great fun, great people, fantastic skaters, brilliant organizing, excellent guides, everything was just nice! I love skating in Holland!

90+ skaters from 15+ nations including for me esoteric nations like Russia, Japan, Venezuela... Wow! My experiences:


---



Day 0 - Tuesday, May 10, 2005

Camping in Spaarnwoude


Arrived ok in the afternoon, put up my tent and socialized. The weather reports were not uplifting.


---



Day 1: Wednesday, May 11, 2005
Spaarnwoude to Petten
About 70 kilometers


We woke up to rain, freezing cold... But the rain stopped and we took off! I was a little apprehensive about falling on the wet asphalt so I took it easy. Skaters were divided in five speed groups, I chose the slowest, Group 5, with about 20 other rec/beginner skaters, and with Jan Feijes as our hard working guide. Everybody looked so pro and with large wheels and I was on holiday so Group 5 felt safer! Five minutes later we had our first casualty, a guy fell coming off a bridge and cut his finger badly, 4 stitches and 3 days off skating!

But skating in Holland is great! Some people complain about klinkers (tiles/bricks) and bad surfaces, and I sigh now and again, but I just love it! It's skating in real life, through countryside and towns, not just some super smooth 100 km+ path through a forest.

The organizers handled our baggage and plied us with snacks and water every other hour. The system just worked, kudos to them all!

My first skating blister ever showed up, during the last 5 km... I was too tired to skate relaxed in a peloton against the wind and that triggered something.

I was dead after the 70Ks... :-) Longest I have ever skated in one day, my previous was 50+ km.


---



Day 2: Thursday, May 12, 2005

Petten to Edam
About 65 kilometers


That the distance was shorter was a big psychological boost, even though it was a measly 5 km! :-) We were stiff and sore in another cold morning, but were glad to get skating. I drained my blister and put on a Compeed and some tape for insurance, this gave me no more problems the rest of the trip.

Surprisingly I got chucked off the slow group around midday and told to take the train from Almaar to Hoorn, the middle third of the trip, together with a lot of other beginners... :-)

I am not sure why, either Jan (our guide) thought and saw I was slow or he wanted me fresh for the last third. I was always the last skater in at all stops and actually got lost once for a couple of minutes with 3-4 other skaters before I found the main group again. I was a little miffed and lots of people said I should skate anyway, but then again I got to take the train with some sweet ladies, so why not... :-) I trust Jan's judgment anyway.

The reason for my slowness was that I was taking care of about 5-6 beginners, some of who where in over their heads. It took me about 5 km the first day to suss the group skate wise and I felt I had to do something. So I decided to be the last skater and make sure everybody survived. For me that was an easy decision, I felt I could skate better than anybody in the group (except Jan of course, he is a powerful skater!) since I had two of Eddy's workshops and one of Barry's clinics under my belt, I had skated around the area the last two years and had an inkling of where we were and how things worked, I could play with my balance in other's slipstream and could help out. Much better than seeing the backside of some fast skater in any of the other groups for the next 5 days!

Helping out was the best part because it gave me a real workout, the whole SkateFresh tour was one big interval training shebang for me! I started towing people and teaching them to skate in line. We had lots of wind so I had lots of opportunity to tow people. My biggest towline was 8 people I think, with 3-4 people I clocked 21 km/h with a headwind once. Whenever we had the wind with us and everybody was close together I would go to the back and relax... :-)

Martine, one of the Skatefresh organizers free skating between the different groups, started spending more time with us so the towing got easier/more fun. She is a lithe girl with interesting geometry that has fantastic acceleration, it's just so much fun to see her move!

My skating high on the whole trip came at the end of the day... We had 7 km to go to Edam and some people took off on their own. Took me some time to understand that and I asked Jan what's up, can we skate freely? Previously we had always kept inline and behind Jan. Anyway, he said yes, and that the last one in had to buy him a beer...

Like hell I was going to buy him a beer after getting chucked on the train, and since the road was smooth, no wind and the beginners would survive I took off like a bat outa hell! Chased down the flyers and passed them, skated alone for a couple of km and then noticed Martine chasing me down. So I slipped in behind her and touched fingers to keep contact... :-)

And the rest is poetry! Bloody effing fantastic marvelous synchronized skating for several km. I didn't screw up, we made the right moves together and came to the camp site 10 minutes before anybody else. I was on a high then! Gives me tears in my eyes just thinking about it...

Martine is now my favorite Dutch skating girl... :-)

(I have a favorite in many nationalities, I love female skaters...)


---



Day 3: Friday, May 13, 2005

Edam to Amsterdam
43 kilometers


Easy day, but the FNS awaits so it'll be 60+ km anyway. Another high on the trip happened early in the day during the briefing.

I had noticed the three French guys and lady in the fast team (I am a tad frankofile), we had had an excellent dinner together the evening before and we were on good terms having fun together. Anyway, Frederic hears me chatting to someone at the briefing, turns around and wonders if I am Franklin on rssi... :-) Turns out he is XSFred! I almost died laughing at the coincidence. That really made my day! :-)

Skating was easy, towing lovely/strenuous as usual... Turns out Jan took a shorter route so we were rather fresh entering the city. Lovely chatting and skating through the flowering fields alongside Martine... Sigh, I'm getting old.

A FNS will be my nemesis one day, something always happens in conjunction with an FNS. In Paris I stretched a muscle and couldn't skate for a week or two. Last year in Amsterdam I fell badly in the tram lines skating to the meeting point in Vondelpark. In November I almost froze to death skating through the countryside home from the Amsterdam FNS. Something always happens... This year was no exception, I feel a jinx whenever I do a Night Skate, it is pushing the envelope for me.

I was going a bit fast and everybody turned into a narrow path through a square. Not enough space for me so I jumped up on a raised platform in the square. I am not sure what it was, maybe it was an art object. Anyway it was 10-15 meters of what looked like rough cut small cobble stones so I was all arm and legs braking down on one skate. I didn't fall but heard the marshal say I couldn't skate there! He didn't say I must not skate there, but that it was unskatable! :-) I waved back and yelled "Sure it is!" and skated on. Getting off it gave me a little heart attack, I dropped right into tram lines... Arms and legs flailing again but I kept on my skates! Wow!

Problem is my right ankle got a beating and was sore the rest of the trip. Skating was ok, but any kluning (klune, Dutch word to walk over unskatable surfaces with ice skates) had me swearing. (It also reinforces my belief that proper skating technique doesn't create injuries, and when in pain proper technique reduces the pain.)

Anyway, we had to get home from Vondelpark so we skated to the camp site. Our own private night skate, with 30 skaters at midnight was fantastic! Much better than the FNS actually! If there is any skater I want to be it is a street skater at night! Forget the speed, cones, dance whatever... :-)

The FNS also seems to have a new generation of blockers, I recognized only one or two from last year, which is interesting.

I also saw Joep doing 50 cm spaced cone work on skeelers! 5 contra 4 wheels is not an issue anymore when it comes to cones... One has to see it to believe it!


---



Day 4: Saturday, May 14, 2005

Edam to Amsterdam
Amsterdam to Kaag-eiland
60 kilometers


Shit my ankle hurts, almost couldn't put on my skate! 10 minutes later I thought ok, I can bear it until the next stop. I had put a Compeed on it and taped it, but touching it hurt. Skating with all wheels on the ground didn't hurt, it was the boot moving and in contact with my ankle that did. Turned out I didn't have to take the mini-bus.

Lovely skating today, the wind in our backs many times! Today the towing was excellent! Bianca, one of the SkateFresh organizers, showed up on her bike. So I got to have so much fun skating on my inside and outside edges! Really deep outside edges are easy when one has the baggage holder to touch. Great falling and pushing practice, I wish I could do it without the bike. Looks bloody scary and it is something to ask Eddy about. I didn't dare try double pushing, I was towing folks behind me and my wheels would touch the rear bike wheel when I thought DP so I chickened out.

Great day, I was getting used to the distances and started feeling they were too short!


---



Day 5: Sunday, May 15, 2005

Kaag-Eiland back to Spaarnwoude
68 kilometers


Last day and a little sadness around. Less towing today, but maybe a few longer stretches than before. We looked at the tulips, skated nicely, took a shortcut and skipped out the seaside town of Zandvoort because of the headwind. Thanks Jan! :-)

It's much more gezellig (Dutch for cosy, nice, but much more than ...)


---



More About Skate Fresh Tours

Surf over to SkateFresh.nl for info about the trip, check out their forums, and tell the organizers you want to go next year!


---



Franklin's Photos of Skating in Holland

95 pictures by Franklin Eekhout of skating in the Netherlands with the Spring 2005 SkateFresh Tour. Select the numbers at the top of the page or the leftand right arrows to see all of the photos in this gallery.
---
Visit Our 12 Skating Forums

Forums for discussing aggressive, artistic, beginning, hockey, fitness, recreational, roller basketball, roller derby, roller dancing, rollersoccer, quad skating, slalom skating, and speed skating.
---
Related Links:
Articles About Skating in the Netherlands
Skating in the Netherlands - Main Menu
Skating in 100 Countries
Translate Any Web Site or Phrase
---
Skating in Africa | Skating in Asia | Skating in Europe | Skating in Oceania | Skating in The Americas
Inline Skate Shop
Roller Skate Shop