Roller Derby Books
Roller Derby Videos
---
A Skating and Sailing Tour of Holland
An article by Barry Larking with photographs by Toine Andernach of a tour organized by Skate-a-Round in the Netherlands that combined skating with sailing.
Author - Barry Larking
Photos - Toine Andernach
Tour Organizer - Skate-A-Round
Trip Date - August 12-16, 2002


Five days skating and sailing in Holland! A bit of luck with the weather, and it promised to be a holiday to remember.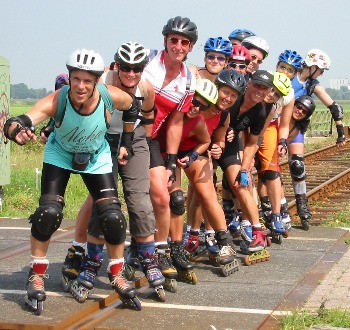 Photo reprinted with permission from Toine Andernach
View Larger Image



Arriving at the Dock
As we approaching Enkhuizen, a small port on the North Holland Peninsula, the sky blackened and it started to rain. The walk from the car park to the pier turned out to be a long and wet one and it was with relief that I reached the Welvaart (or "bon voyage") that was to be our floating hotel and means of transport (when not skating) over the coming days. By now the name was beginning to seem a little inappropriate.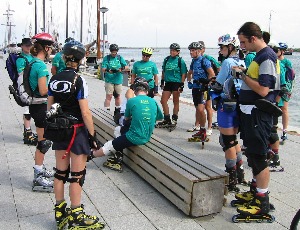 Photo reprinted with permission from Toine Andernach
View Larger Image



Our Floating Hotel
First we wanted to get installed in our cabin. It was cosy and clean with room for two persons horizontally and a similar number in a vertical position (if you didnít take into account the luggage). A feel for logistics was obviously going to come in handy here. A surprising discovery was the private (well almost - the neighbours also had a door) shower and WC. No padding down an unlit corridor in the middle of the night looking for the communal toilet this week! About this time, the boat was beginning to fill up with people and the sun was even putting in a nervous appearance.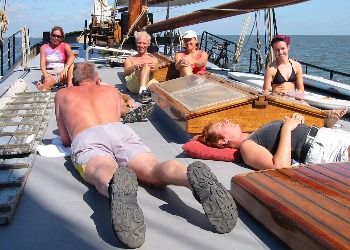 Photo reprinted with permission from Toine Andernach
View Larger Image



Skating the Dykes of Ijsselmeer
The sun and wind had done a good job of drying up the rain, and after a lot of hand shaking and name swapping, our 20-strong group was skating back down the pier for the first leg of our tour: a 26 km skate on top of a dyke with, on one side, endless green polder land and, on the other, the blustery blue waters of the IJsselmeer. The head wind did wonders for my unpracticed drafting technique and I was soon happily tucked in behind a safe number of suitably bulky skaters.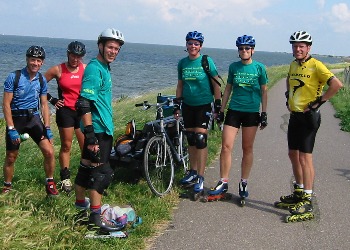 Photo reprinted with permission from Toine Andernach
View Larger Image



Meeting the Ship in Medemblik
In what now seems no time at all, we had arrived at our destination, an equally small port called Medemblik, where the Welvaart had been patiently waiting for us. While some began exploring the ship and others began exploring the fridge for beer, Cathelijne, our professional cook/skater got on with preparing the evening meal, a three course feast designed to fatten us up for the next dayís adventure.

Testing Our Sailing Skills
First thing in the morning we all had a chance to put our sailing skills to the test. In practice this meant a lot of pulling of ropes and turning of handles that resulted in the appearance of three massive sails, emerging like giant butterflies from equally giant cocoons, followed by a long period of recovery flat out on deck in the sun. Heaven! Sadly, the force 5 winds of the day before had slackened to a light breeze and our skipper, Wopko, had to resort to a bit of motorized backup to get us to the island on time.

Skating Around Texel Island
The afternoon skate would include a 40 km tour round the island of Texel (pronounced Tessel). For someone whose maximum skating distance didnít stretch to much more than 25 km at a time, a 40 km tour seemed just a bit daunting. But not to worry, there were sufficient stops for ice cream and iced tea that you just didnít notice the kilometers racing by. This was all helped along by what seemed to be a phenomenal amount of perfect (or to use the Skate-A-Round terminology, Road Rating 1) asphalt.

Skating 32 KM Across the Afsluitdijk
The day after the Texel warm up, we were prepared for the ultimate (at least for me!) challenge: the Afsluitdijk - 32 km of straight path across the IJsselmeer linking the left-hand side of Holland with the right. Apart from a piece of rather negative Road Rating at the end, you couldnít complain about the quality of the asphalt here, and with the help of a light tailwind we sailed across this the following day almost as fast (?) as the Welvaart (was Wopko using that motor again??). 10 km later we arrived in the Friesian village of Makkum and celebrated our historical achievement with pints of iced tea taken on one of the numerous terraces (yes, the sun was still shining!).

Skating the Eleven Cities Tour
The final leg of the tour was to follow part of the route of the famous (at least in ice-skating circles) "eleven cities tour". Although to the modern eye it might seem to be stretching it a bit to call these cities, they had a definite charm that almost repaid the pain of skating over what must have been a million tiny stones in the newly laid asphalt to get there (well to be honest, most of the 25 km was fairly good skating!).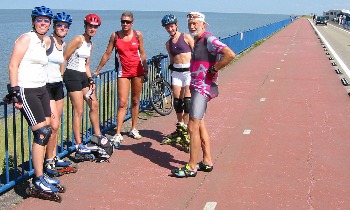 Photo reprinted with permission from Toine Andernach
View Larger Image



Final Skate, Celebration, and Goodbyes
After a celebration pizza in down-town Stavoren and what should have been an early night, we were up early (well, relatively speaking) for a Friday morning skate through the local nature reserve (20 km) followed by a final swim in the harbour before setting sail across the IJsselmeer for Enkhuizen. Three hours later, the inevitable became reality and it was farewell to the Welvaart and to each other with the consoling prospect of - who knows, just maybe - skating in Cuba next year!!!





Photo reprinted with permission from Toine Andernach
View Larger Image
---
More Photos by Toine Andernach
Best of Holland Photo Gallery - Page 1
Best of Holland Photo Gallery - Page 2
Best of Holland Photo Gallery - Page 3
Best of Holland Photo Gallery - Page 4
Best of Holland Photo Gallery - Page 5
---
Visit Our 12 Skating Forums

Forums for discussing aggressive, artistic, beginning, hockey, fitness, recreational, roller basketball, roller derby, roller dancing, rollersoccer, quad skating, slalom skating, and speed skating.
---
Related Links
Articles About Skating in the Netherlands
Skating in the Netherlands -Main Menu
Skating in 100 Countries
Translate Any Web Site or Phrase
---
Skating in Africa | Skating in Asia | Skating in Europe | Skating in Oceania | Skating in The Americas
Inline Skate Shop
Roller Skate Shop