Roller Derby Books
Roller Derby Videos
---
Introduction to Skating in Pakistan
Roller skating as a national competitive program was introduced in Pakistan more 20 years ago by Khalid Saeed, who is now the General Secretary of the Roller Sports Federation of Pakistan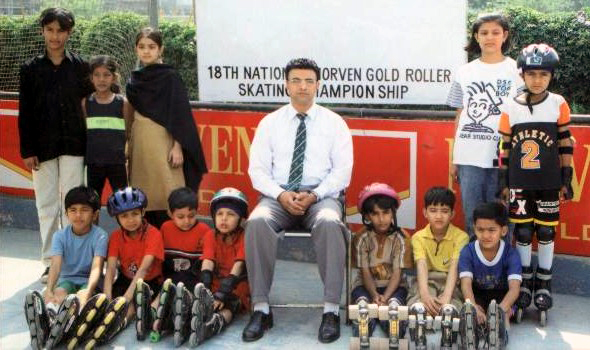 The Pakistan Youth Hockey Team at the
16th National Championships with
Federation General Secretary, Khalid Saeed

Copyright © by Khalid Saeed



The sport of competitive roller skating was first introduced in Pakistan nearly 20 years ago by Mr. Khalid Saeed, who is now the General Secretary of the Roller Skating Federation of Pakistan. Men and women of all ages roller skate in Pakistan, on inline skates and quad roller skates, and the two most popular disciplines are speed skating and roller hockey. Pakistani skaters participate on a regular basis in speed and hockey competitions around the world.

There are many roller skating facilities in Pakistan, and the city of Lahore is the main center of activity. There are three very good facilities in Lahore. One is primarily for roller hockey and two are rinks designed for all types of skating. Karachi and Faisalbad are the second most important roller skating cities and there are also roller skating rinks in Toba Tek Singh, Gujranwala, and Rawelpindi. There are currently plans underway to build another facility in Lahore that can be used for both speed skating and roller hockey.

Local competitions and speed and hockey camps are held all over Pakistan throughout the year. The 19th National Roller Skating Championships of Pakistan were held March 1-3, 2002.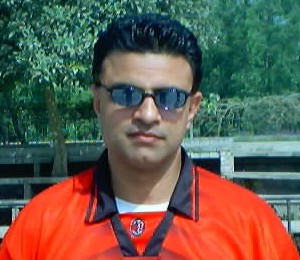 Secretary General Khalid Saeed

Copyright © by Khalid Saeed



The Pakistan Federation is affiliated with the International Roller Sports Federation in Spain and the Asian Confederation of Roller Sports in Japan.



Pakistan Federation of Roller Skating
F/851, Kinari Bazar
Lahore 54000 - PAKISTAN
Phone 92 42 354907
Fax 92 42 7633515 (or) 92 42 7664901
Email: pakskate@hotmail.com


The General Secretary of the Federation is Mr. Khalid Saeed. Mr. Saeed is also the coach of the Pakistan National Roller Hockey Team, and a former central committee member of the Speed Skating Division of the Asian Confederation of Roller Sports. He conducts training camps for skaters all over Pakistan and he has attended hockey coaching training camps in several different countries. He spends much of his time promoting roller skating in his own and neighboring countries, including Iran, Balgladesh, and many others. He is now focusing on developing his skills as a speed skating coach. Mr. Saeed can be contacted at pakskate@hotmail.com. I wish to thank Mr. Saeed for keeping me informed about the sport of roller skating in Pakistan, and for giving me permission to reprint his photos in this article.
---
Related Links
Skating in Pakistan - Main Menu
Skating in 100 Countries
Translate Any Web Site or Phrase
---
Skating in Africa | Skating in Asia | Skating in Europe | Skating in Oceania | Skating in The Americas
Inline Skate Shop
Roller Skate Shop