Roller Derby Books
Roller Derby Videos
---
The Inline Skating Police of Puerto Rico
by Agent Juan C. Matos
This article by Agent Juan C. Matos includes photos and information about Puerto Rico's inline skating police unit. Agent Matos is a sworn police officer and an IISA-certified skating instructor.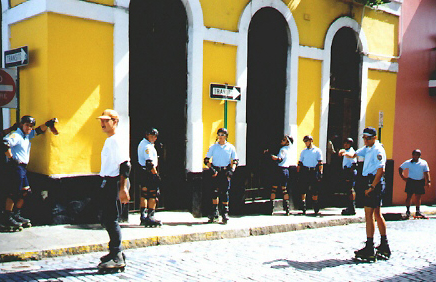 Copyright © Juan C. Matos
More Photos of Skating Police -->
---



SKATING FOR A SAFER COMMUNITY IN PUERTO RICO
by Agent Juan Matos


On March 22, 1999, the first Inline Skating Unit in the Puerto Rico Police Department was established. At first it was seen by other police officers as a real joke, and by members of our community as a total waste of valuable resources that could be used in a much more productive way.

The idea of having police officers patrol on inline skates is not new. There are many police departments around the world that have police on inline skates, each one with it's own personality and characteristics that makes them unique. In Puerto Rico, we first started patroling the streets on inline skates, while we were giving parking tickets. Two months later we were patroling on skates in high crime areas, and skating at night. Since the weather here is always like summertime, we get to skate for 8 hours a day, 5 days a week, all year long.

All officers assigned to the inline skating unit receive a 40-hour Training Course, which covers all aspects of skating skills, self-defense techniques and public relations. They are also, upon completion of training, assigned to work exclusively on inline skates. This has greatly contributed to achieving a more aggressive style of skating that has helped us develop special arrest and self-defense techniques for on-skate police officers. By monitoring these techniques very closely, while they are actually be used in the streets, we are able to identify those that have proven successful, and implement them in our training.

Being on the lookout for crimes being committed is not our only responsibility anymore. Patroling on skates attracts a lot of attention, and it really gives you an opportunity to do some positive public relations work. "We talk to people on the streets a lot, and go to schools to talk about skating safety", says Agent Reynaldo De Jesus. Most of the officers also volunteer their time to serve in the National Skate Patrol (NSP) and are active members of the Puerto Rico Inline Skating Association (PRISA). "Without programs like the NSP, and the free skating clinics offered by PRISA, we would not be able to reach deep into our community to the children; the ones that always come running towards us every time we are on patrol", says Agent Joaquin Rivera.

By having officers patrol on inline skates, we are providing our communities with a new cost effective form of community policing that has proven effective in preventing crime. Officers on inline skates are able to get to areas impossible to reach by patrol cars or motorcycles. It also makes it possible to patrol a larger area in less time than an officer does on foot. A team of two officers on inline skates can replace 6 officers on foot patrol.

Today, after over a year, we have earned the respect from our fellow officers and the members of our community. Those who didn't believe in this new tool of crime prevention are now taking inline skating classes and want to join our inline skating unit. "We are now very close to the members of the community we protect and it's all thanks to the greatest and more useful sport on earth: inline skating" says Agent Hamilton Peņa.



---

About the author...
Agent Juan C. Matos is an IISA Certified Instructor and inline skating instructor for the Puerto Rico Police Department. He is also the Director for the Puerto Rico Chapter of the National Skate Patrol, and the President of the Puerto Rico Inline Skating Association.

---
Related Links
Training Course for Inline Skating Police
Skating Police Around the World
Skating in Puerto Rico
Translate Any Web Site or Phrase
---
Skating in Africa | Skating in Asia | Skating in Europe | Skating in Oceania | Skating in The Americas
Inline Skate Shop
Roller Skate Shop