Russian Skates 1800 KM Across Germany
The 20-Day Skate Will Begin April 1, 2003

On April 1, 2003, thirty-seven year old Russian chemist George Pakhomov will begin skating across Germany, from south to north, a distance of approximately 1800 kilometers. Skaters, cyclists, other local German residents, and visitors to Germany are invited to join him for as long as they wish, when he passes through different parts of Germany. The skate will be video taped by Russian film maker Alexey Orlenko who will accompany George on a bicycle. George has been training hard all Winter, mostly on a bicycle because there has been so much snow. The journey will begin on April 1, 2003.

Russian Ultra Marathon Skater
George specializes in long distance, cross-country marathon skating which is rather unusual in Russia, where the most popular skating styles are aggressive skating and slalom cone skating. Russian skaters call him a "super marathon roller". In 2000 George skated 210 kilometers from Ekaterinburg to Chelyabinsk in 12 hours. In 2001 he skated across Germany from west to east, covering a distance of 790 kilometers in 5 days. After George skated across Germany in 2001 he was given the nickname "GeRoller".

George is credited with introducing a new kind

of tourism to Russia: ultra long distance cross-country skating. This kind of skating is also very popular in Finland, Sweden, Norway, and other parts of Scandinavia (in 2001, a group of Helsinki skaters crossed Finland from North to South for the 10th anniversary of an annual skating event called FinLine).

George says the best part of his long-distance skating odysseys has been the special and intimate view they have given him of each country's climate, natural scenery, and atmosphere, and the experience of meeting the local people in a very special way.

Professional Career
George received his chemistry doctorate from The Urals State Technical University where he is also

the director of their Chemistry Lab. His research has mainly been focused on computer analysis of physical chemistry, and more recently, developing specialized equipment and materials for fighting fires in small areas and multi-story buildings. His research results have been published in more than 30 scientific papers.

Athletic Career
George has participated in more than twenty ultra-marathon skating, hiking, cycling, and skiing expeditions.

In 2002 he took part in an international event called the "Hundredth Meridian Expedition", which involved hiking, cycling, and boating from Malaysia to North of Siberia (for more information about this event see 100Meridian.ru). In addition to participating in long distance expeditions, and his favorite sport of inline skating, George enjoys tennis, cycling, diving, windsurfing, skiing, ice swimming, classical films, and painting.

The Journey Begins on April 1
George will begin his 1800 kilometer journey across Germany on April 1, 2003. Skaters all over the world are encouraged to send messages of support to George at geroller@geroller.ru and to meet him along his route if they will be in Germany in April.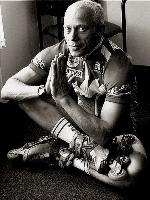 Related Links
Map of George's Route Across Germany
George Pakhomov Web Site I (Russian)
George Pakhomov Web Site II (German)
Article with Photos of George (Russian) 100Meridian.ru
The 100th Meridian Expedition (English) 100Meridian.ru
Guide to Skating in Russia (English)
Guide to Skating in Germany (English)
How to Translate Any Web Site or Phrase

---
PARTNER TRAVEL WEB SITES: | Africa | Asia | Europe | Oceania | Panmerica |
Skating Forums


The

SkateLogForum

was closed in March of 2020 but archived copies of all of the posts between August of 2006 and March of 2021 are still available for viewing.
New discussions can be posted in Jessica Wright's

SkateDebateForum

. Jessica was selected to host the follow-on to the SkateLog Forum because of her excellent job, for many years, as the co-administrator of the SkateLog Forum.
- SkateLog Forum Archives
- Skate Debate Forum





Skating Forums


The

SkateLogForum

was closed in March of 2020 but archived copies of all of the posts between August of 2006 and March of 2021 are still available for viewing.
New discussions can be posted in Jessica Wright's

SkateDebateForum

. Jessica was selected to host the follow-on to the SkateLog Forum because of her excellent job, for many years, as the co-administrator of the SkateLog Forum.
- SkateLog Forum Archives
- Skate Debate Forum




Kathie Fry, SkateLog Editor




---





---





---