Roller Derby Books
Roller Derby Videos
---
An Introduction to Skating in Russia
Skating the Novgorod Kremlin
by Kathie Fry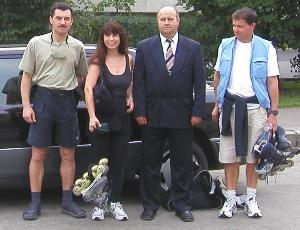 The Very Dignified Victor Drove Us to Novgorod
Copyright © Kathie Fry
More Photos

Novgorod is about 180 kilometers from St. Petersburg and 530 kilometers from Moscow. There are two Novgorods in Russia, and this one is known as "Novgorod Veliki" (Novgorod the Great). The city is divided in two parts by the Volkhov River, and it is in an area famous for ancient churches and monasteries. As in most Russian cities, it is possible to skate almost anywhere in the town of Novgorod, but there are two very special place to skate: inside the walls of the Novgorod Kremlin and on the beach trail that runs along the Volkov River.

The Novgorod Kremlin is a lovely place to skate because inside those walls you can skate very close to ancient Russian Churches and historic monuments. Don't miss the 11th-century St. Sophia's Cathedral, one of the oldest stone buildings in Russia, and the beautiful "Thousand Years of Russia" monument, a huge bell surrounded by 128 figures of famous Russian citizens.

There is also a very special restaurant inside the Kremlin walls. Detinets Restaurant is one of the best places in Russia to try the local cuisine. You can sit inside the dark and cool interior of the restaurant or have your meal outside under the elm trees, still wearing your skates. It can take 40 minutes or more for your food to arrive but just sit back and relax, try a glass of Medovukha (a local alcoholic honey drink), and enjoy your surroundings. The food will be well worth the wait.

Just outside the Kremlin walls, on the embankments of the Volkhov River, there are paved trails on both sides of the river connected by a pedestrian bridge. There is also a lovely beach where you can spend an entire day relaxing, swimming, and having a picnic.

Two places you should not miss during your visit to Novgorod are the beautiful Yuriev Monastery, with its blue onion-shaped domes, and the fascinating Museum of Traditional Russian Wooden Architecture.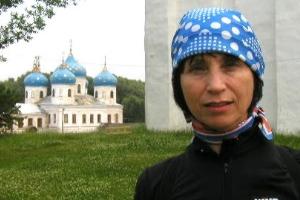 Me Visiting the Yuriev Monastery
Copyright © Kathie Fry
Part 7 -->
---
More of This Article
---
Related Links
Skating in Russia - Main Menu
Skating in 100 Countries
Translate Any Web Site or Phrase
---
Skating in Africa | Skating in Asia | Skating in Europe | Skating in Oceania | Skating in The Americas
Inline Skate Shop
Roller Skate Shop