Roller Derby Books
Roller Derby Videos
---
The Karlstad to Deje Rail-Trail
A 30 Kilometer Recreational Trail in Sweden

There is a beautiful, scenic skating trail on the northern shore of Sweden's Lake Všnern that connects the towns of Karlstad and Deje. The trail runs along side a lake, through forests, and across fields of corn. The trail is closed to motorized traffic, so skaters can go 30 kilometers without encountering any automobile traffic at all.


Copyright © Wermlands Inlinelopp


The trail was build on an abandoned railroad line, something that is happening more and more in many different parts of the world. The asphalt on the trail is very smooth and the trail is an easy skate because it is very flat with no hills.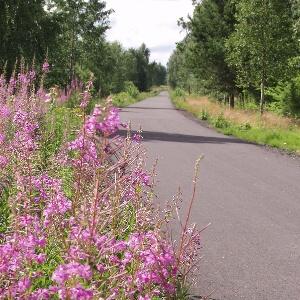 Copyright © Wermlands Inlinelopp




Map of the Trail


Every year in June there is a fun roll and race on this trail called the Wermlands Inlinelopp. All levels of skaters participate in that event the best skaters in Sweden and fitness and recreational skaters.

The local skaters hope that one day the old railroad line will be paved all the way to Hagfors, which extend the length of the trail from 30 kilometers to 70 kilometers.
---
Visit Our 12 Skating Forums

Forums for discussing aggressive, artistic, beginning, hockey, fitness, recreational, roller basketball, roller derby, roller dancing, rollersoccer, quad skating, slalom skating, and speed skating.
---
Related Links
Wermlands Trail Annual Fun Roll
Guide to Skating in Sweden
Skating in 100 Countries
Translate Any Web Site or Phrase
---
Skating in Africa | Skating in Asia | Skating in Europe | Skating in Oceania | Skating in The Americas
Inline Skate Shop
Roller Skate Shop