Join the Stockholm Tunnel Race on October 17, 2004 and skate, walk, or run your way through a unique underground experience. This is turning out to be a very popular event. More than 1500 tickets were sold in the first hour and 7000 tickets were sold after only 4 days!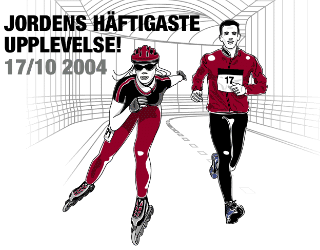 Copyright © Tunnelloppet.se
About the Tunnel


The South Link is Swedenis largest road tunnel project and connects two of Swedenis most heavily trafficked routes; Essingeleden to the west and Värmdöleden to the east. Around 60 000 vehicles will be able to pass through the tunnels every 24 hours, reducing the impact on the surrounding environment and Stockholm at large.



Grand Opening Race


The South Link will be opened for traffic on Sunday 24 October 2004, but you can experience the tunnels first-hand before we let the vehicles take over! As part of the inauguration programme, Hammarby IF Athletics will be organising the Tunnel Race on 17 October 2004. The race takes you through all of the South Link tunnels, and those of you who imagine them to be dark and inhospitable are in for a surprise!



Distances


- INLINE SKATING - 42 KM and 12 KM
- RUNNING - 12 KM



The Route


The start and finish lines will be at the Stockholm Globe Arenas and the participants will be treated to a unique underground experience. About 90 percent of the race course will run through the South Link tunnels. And although the finishing line at the Globe promises to be a magnificent experience, a number of other exciting events are being planned along the route.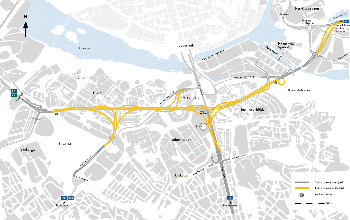 Copyright © Sondralanken.nu





Who Can Participate?


The Tunnel Race is open to everyone, whether you can manage 10 km in 40 minutes, would like to speed through the tunnels on inlines or stroll along the route.



How to Register





Register on the Web:

Connect to Ticnet.se and choose language. IMPORTANT: If you pay by credit card, remember to bring the same card with you when retrieving your tickets. If you do not live in Sweden, the organizers recommend that you pay by credit card and pick up your your event ticket when you arrive in Sweden for the race (note that you cannot have the tickets mailed to you if you enter this way).



Register by Telephone:

Call +46 (0)77 131 00 00 and be sure to have the details of the participants you are planning to register close at hand. See below for the details we will be asking for. If you register by phone, Ticnet can send the ticket to your home address for an extra fee.



Group Registration:

For a group of 20 participants or more itis best to make a group reservation via telephone by calling +46 (0)8 725 12 30. You will need to provide the name of the primary contact, but the names and details of the other participants will be requested at a later time. Tickets will be invoiced for payment within 7 days.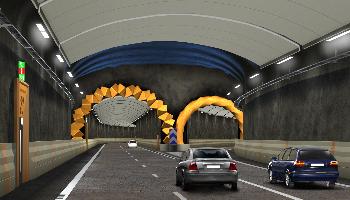 Copyright © Sondralanken.nu





Things to Keep in Mind:




- All entries are managed via the Stockholm Globe Arenas and Ticnet ticket systems.


- You can book/buy tickets via telephone and the Internet as well as at the ticket booth by the Stockholm Globe Arenas.


- Booked tickets should be picked up and paid for within three (3) days via your chosen ATG/Ticnet agency.


- The ticket is you starting certificate. It states your start-time and start-group, but not your starting number.


- The ticket is a document of value. Purchased tickets will not be refunded.


- A name, address and day-time telephone number shall be submitted for each purchased ticket. We also welcome email details.


- Seeding is not applied. The first applicant will be the first to start.


- Bring your ticket with you to the handing out of number labels on Saturday 16 or Sunday 17 October 2004. The ticket is valid for both a number label and entry to the roped-off starting area at the Stockholm Globe Arenas.



More Information


- Official Web Site: Tunnelloppet.se
- Email Event Organizers: info@tunnelloppet.se
- Detailed Entry Terms: Ticnet.se
- Stockholm Globe Arenas
---
Visit Our Skating Forums

Forums for discussing aggressive, artistic, beginning, hockey, fitness, recreational, roller basketball, roller derby, roller dancing, rollersoccer, quad skating, slalom skating, and speed skating.
---

Related Links
Skating in Sweden
Sweden Reference and Travel Guide
Skating Across a Swedish Bridge (About.com)