Roller Derby Books
Roller Derby Videos
---
Santa Monica Beach Pick-Up Inline Hockey

There are pick-up street hockey games Monday through Friday on Santa Monica Beach in Southern California. Many of the world's top pro ice hockey players join these games when they are in town. You never know who will be there!

The games are played in a beach parking lot about a half a mile south of the Santa Monica Pier. Any skate shop or concession stand on the beach can tell you where it is, and most of the local skaters will also be able to tell you. You can reach the parking lot where pick-up hockey is played by skating on the beach trail that runs south from the Santa Monica Pier and north from the Washington Boulevard Pier. There are hockey games on Santa Monica Beach in the late afternoon and early evening almost every weekday and they always finish before dark. You won't see many games on Saturdays and Sundays because that's when the parking lots fill up with cars.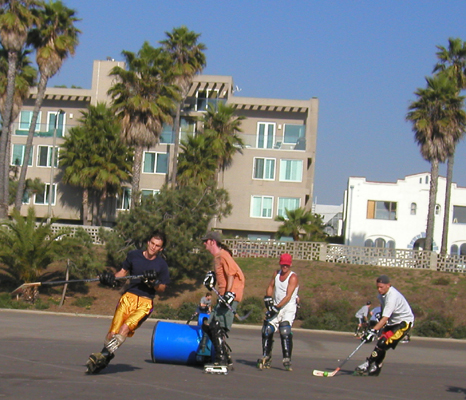 Copyright © Kathie Fry of SkateLog.com
Sons of the Beach Photo Gallery
A cartoon about Santa Monica Beach roller hockey and a photo gallery that includes a picture of ice hockey pro Luc Robitaille joining a Santa Monica Beach pick-up roller hockey game (from InlineHockeyCentral.com).
---
Related Links
More About Skating in California
Hockey - Main Menu
Skating in 100 Countries
Translate Any Web Site or Phrase
---
Skating in Africa | Skating in Asia | Skating in Europe | Skating in Oceania | Skating in The Americas
Inline Skate Shop
Roller Skate Shop