Roller Derby Books
Roller Derby Videos
---
Inline Skating in Marina del Rey
If you visit me in Southern California, one of the skating spots I will introduce you to is the Marina del Rey Breakwater Trail,which is actually a short bit of trail on the west end of the 7 mile Ballona Creek Trail. The Ballona Creek Trail begins in Culver City and runs west until it crosses the South Bay Bicycle trail and turns into what I am calling the breakwater trail. The breakwater portion of the Ballona Creek Trail is not very long, and the surface is only OK for skating, but the view is so beautiful, you really should not miss this trail when you are visiting Southern California.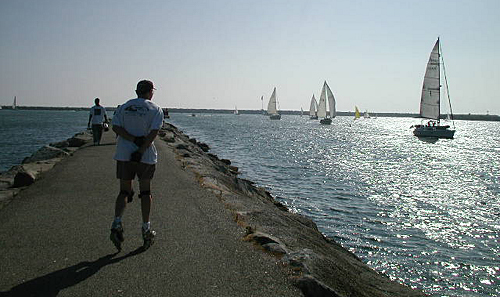 Copyright © Kathie Fry of SkateLog.com
Next Photo -->


Marina del Rey is located in Southern California, just North of the Los Angeles International Airport, between the coastal town of El Segundo and the Venice/Santa Monica area. For more information about the Marina Trail, the Ballona Creek Trail and the South Bay Bicycle Trail, see Southern California Skating Trails.
---
Related Links
Skating Trails Around the World
Skating in California
Skating in 50 United States
Skating in 100 Countries
---
Skating in Africa | Skating in Asia | Skating in Europe | Skating in Oceania | Skating in The Americas
Inline Skate Shop
Roller Skate Shop