Roller Derby Books
Roller Derby Videos
---
Director of U.S. Figure Skating Retires
May 28, 2004 Will be John LeFevre's Last Day

After 6 years of service, John LeFevre, Executive Director of the United States Figure Skating Federation resigned effective May 28, 2004.






PRESS RELEASE FROM U.S. FIGURE SKATING
MAY 14 2004 ANNOUNCEMENT


Effective May 28, John LeFevre will retire as executive director of U.S. Figure Skating, just one month shy of six years in the position. LeFevre's term as director marked a time of considerable expansion for U.S. Figure Skating, including growth in membership, www.usfigureskating.org, and development and expansion of membership programs.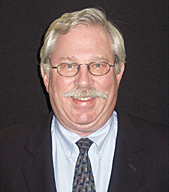 "I have had a wonderful six years as the executive director of U.S. Figure Skating," LeFevre said. "I will remember them all fondly. The journey has been unique and rewarding, from the professional relationships I have developed to the many programs I have seen flourish. Figure skating has always been one of my life pursuits, and I am thankful for the opportunity I've had to bring U.S. Figure Skating forward. However, the time has come for me to step down from this position. I am ready to begin the next phase of my life."

From McLean, Va., LeFevre entered the sport in the 1950s as an ice dancing competitor. He recounts his experience with figure skating as quite the family affair, as his father was the president of U.S. Figure Skating from 1970-73 and his mother was a world judge. LeFevre himself delved further into the sport as a judge, board member, committee chair (dance from 1985-88 and competitions from 1989-91), international dance referee, world level judge, team leader and first vice president.

"I took the job because figure skating has always been my passion," LeFevre said. "I saw that I had the opportunity to positively affect the administration of the sport. I was excited about the possibilities and the chance to use this new channel to give back to the sport I loved so much."

LeFevre moved to Colorado Springs and began as the new executive director of U.S. Figure Skating on July 1, 1998. He settled in and began his goal of enhancing the ability of the staff to serve the contingency. He built the organization into a full-service national governing body by expanding the size of Headquarters, hiring synchronized skating and Basic Skills specialists, creating the Sports Resources (Events) and IT Departments, expanding the U.S. Figure Skating web site, shifting the focus of the Membership Department from data collection to membership growth, increasing efficiency of SKATING magazine and enhancing the organization's relationships with the International Skating Union (ISU) and the United States Olympic Committee (USOC).

Following LeFevre's retirement on May 28 he plans to seek out new opportunities within the community of Colorado Springs.

"There are many volunteer opportunities I would like to get involved in, many of which are in the arts," LeFevre said. "Music is another of my passions, and I just haven't had time up to this point to get involved."

Upon LeFevre's retirement, former U.S. Figure Skating Executive Director Jerry Lace will serve as the interim executive director. Lace, a native of Stillman Valley, Ill., served as the U.S. Figure Skating executive director from May 1993 to June 1998. Since that time he has continued to work at Headquarters in numerous positions, including most recently as director of marketing. Before coming to U.S. Figure Skating Lace was the assistant executive director and director of operations for the USOC, as well as the chief executive officer of the U.S. Cycling Federation.

A search committee is being established to recommend candidates to fill the position
---
Related Links
U.S. Figure Skating - Official Web Site
Skating Organizations Around the World
Skating in 100 Countries
---
Skating in Africa | Skating in Asia | Skating in Europe | Skating in Oceania | Skating in The Americas
Inline Skate Shop
Roller Skate Shop