Roller Derby Books
Roller Derby Videos
---
Willard Munger State Trail
The Willard Munger Trail in Minnesota is one of the longest trails in the United States. It is actualy not one trail, but instead it is a series of cycling and hiking trails between the cities of St. Paul and Duluth Minnesota.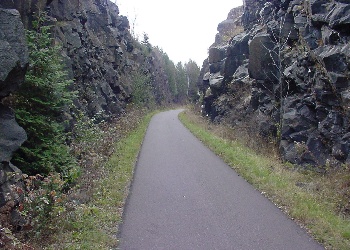 The Willard Munger State Trail is a collection of four multiple use trails in Minnesota between the towns of stretching 174 miles from St. Paul to Duluth It consists of interconnecting trails for hiking, bicycling, inline skating and snowmobiling in winter. The trail follows the route of a fromer railroad line.

Section 1 - Hinkley/Duluth
The 63 mile Hinckley - Duluth segment of the Willard Munger State Trail is now completely paved. The trail extends between Hinckley, Willow River, Moose Lake, Barnum, Carlton, and Duluth. The trail passes near Banning State Park, through Finlayson, Willow River and General C.C. Andrews State Forest, and through the spectacular scenery of Jay Cooke State Park. The northeast portion of the trail provides scenic views of the St. Louis River and the twin ports of Duluth and Superior.

Section 2 - Alex Laveau Memorial Trail
This is a (6 or 16?) mile trail that runs from Gary and New Duluth through Wrenshall into Carlton. The trail is a combination of off-road paved trails and bike routes on paved highway shoulders (mostly the latter according to the last report I received).

Section 3 - The Boundary Segment
This is an 80 mile natural (not paved) trail used mostly for snowmobiling, horseback riding, hiking and mountain biking. It is not suitable for skating because none of it is paved.

Section 4 - The Gateway Segment
18 miles long (paved?)

Maps of the Munger Trail
---
Visit Our 12 Skating Forums

Forums for discussing aggressive, artistic, beginning, hockey, fitness, recreational, roller basketball, roller derby, roller dancing, rollersoccer, quad skating, slalom skating, and speed skating.
---
Related Links
More Skating Trails in Minnesota
Skating in Minnesota - Main Menu
Skating in 50 USA States
Skating in 100 Countries
---
Skating in Africa | Skating in Asia | Skating in Europe | Skating in Oceania | Skating in The Americas
Inline Skate Shop
Roller Skate Shop