Roller Derby Books
Roller Derby Videos
---
Inline Skating in Tulsa Oklahoma
by Roger Meadows
An article by Oklahoma inline skater Roger Meadows describing what it's like to skate in the city of Tulsa, Oklahoma. The picture at the top of this page was taken by Roger when he was skating north on one of the many Tulsa skating trails. The bridge ahead of him is the one that crosses Southeast 71st Street.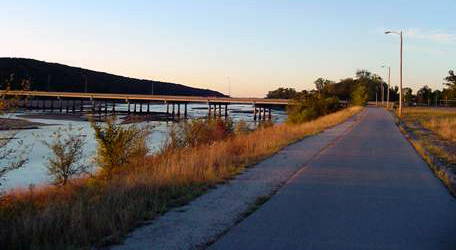 Copyright © Roger Meadows

Next Photo -->




SKATING THE TULSA RIVER TRAIL SYSTEM

by Roger Meadows


I have skated all across the nation and Tulsa, Oklahoma has some of the best skate paths of any state with their River Parks Trail system. At this time I am unsure the total length of all the paths, but it is in excess of 40 miles.

An excellent place to access the trails system is at the parking area just north of the intersection of Southeast 71st Street and Riverside Drive. Skating north from SE 71st to SE 11th takes you through some very tall pine trees, paralleling the Arkansas River on the east side.

This is approximately a 6 mile path with is semi-smooth asphalt and not built for high speeds. At SE 11th Street you can cross a very skate friendly bridge and skate approximately 6 miles south to Southeast 71st Street completing the loop, again across a skate friendly bridge on Southeast 71st Street taking you back to the parking area. The path on the west side is very smooth asphalt, built for speed, although it is somewhat isolated so care should be taken. Water and rest rooms are available along the path and the east side path is lighted during the evening.

At Southeast 31st Street, there is an old railroad bridge that you can skate across the Arkansas River to access the west side trail. Surface is very smooth angled boards and a very unique skating experience.

A skater friendly open air restaurant/bar is located along the east side path between SE 31st and SE 11th Streets.



More Photos of Tulsa Inline Skating Trails


In summary the Tulsa River Trail system is a skaterís paradise. The City of Tulsa is continuing to add to the trails system and should be commended for their efforts to promote fitness in the Tulsa area.

For additional information on skating the River Parks Trails please contact Roger Meadows at rogeremeadows@yahoo.com.
---
Related Links
Inline Skating in the Oklahoma City Area
Skating in the State of Oklahoma
Skating in 50 USA States
Skating in 100 Countries
---
Skating in Africa | Skating in Asia | Skating in Europe | Skating in Oceania | Skating in The Americas
Inline Skate Shop
Roller Skate Shop