Roller Derby Books
Roller Derby Videos
---
Recreational Skating in the United States
by Kathie Fry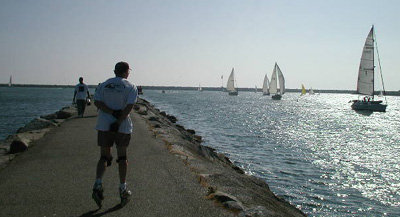 Breakwater Trail in Marina del Rey California
Copyright © Kathie Fry of SkateLog.com
Skaters from all over the world visit the United States to skate in New York's Central Park and Southern California's Venice Beach but most of them are not aware of the many other fine recreational skating opportunities in our country. Many U.S. skaters would also be surprised to learn about the large number of paved, multi-use recreational trails across the United States and the many special activities and events for recreational skaters in the U.S.

In this article I will highlight some the most popular skating trails and events in the United States and tell you how to find out more about recreational skating opportunities in your area.




Skate on the Beach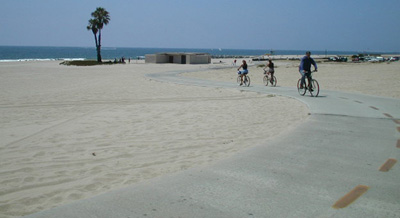 Playa del Rey Trail in Southern California

Copyright © Kathie Fry of SkateLog.com


Many of the beach areas adjacent to U.S. oceans, lakes, and rivers have paved multi-use trails for skaters and cyclists. The states most well-known for ocean side beach trails are California and Florida, and the state with the most lake trails is Minnesota. In California there are many beach trails along the coast between Santa Monica and San Diego, including one 25 mile stretch of trail that runs through Santa Monica, Venice Beach, Manhattan Beach, Hermosa Beach, and Redondo Beach. Three of the most popular coastal skating areas in Florida Miami Beach, Fort Lauderdale, and Tampa Bay. To find a beach trail in your area, look in one of the trail directories listed in the next section.




Skate in the Wilderness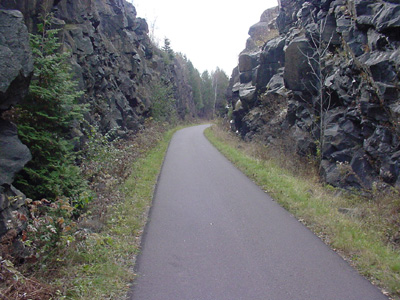 Willard Munger Trail in Minnesota

Copyright © Terry King


The U.S. has an extensive network of paved, multi-use trails, some of which are more than 50 miles in length. The longest continuously paved trail for non-motorized traffic in the United States is the 72 mile Trail of the Coeur d'Alenes in Idaho which was built in the bed of a former Union Pacific Railroad Line. Six of the longest paved trails in the U.S. are:


Wisconsin - Oakleaf Trail (70 miles)
Ohio - Little Miami Trail (68 miles)
Minnesota - Mesabi Trail (66 miles)
Minnesota - Munger Trail (63 miles)
Minnesota - Paul Bunyon Trail (57 miles)
Iowa - Raccoon River Trail (56 miles)
Iowa - South Riverside Trail (50 miles>

For more information about paved multi-use recreational trails in the United States that are restricted to non-motorized traffic see:


Skating Trails by USA State
Rails-to-Trails Conservancy
http://www.americantrails.org




Skate at a Party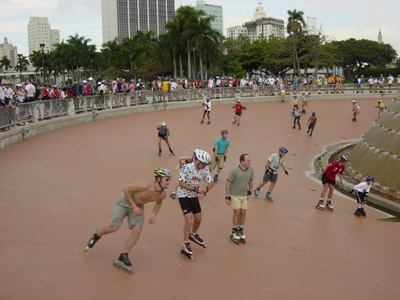 Great EsSkate Party Weekend in Miami, Florida

Copyright © Scott Jones of APRR.org


If you're a party animal who also loves to skate, you won't want to miss the skating party weekends that happen every year in Miami Beach, Philadelphia, New York City, and Boston. These events attract hundreds of skaters from around the world, and they offer skaters a full schedule of group skates balanced with parties, hot tub gatherings, and other social activities. For more information visit the official event Web sites:


Big Apple Roll (New York)
Great EsSkate (Florida)
Philly Skate Jam (Pennsylvania)
Skate Boston Weekend (Massachusetts)
http://www.nspboston.org
Skate With a Group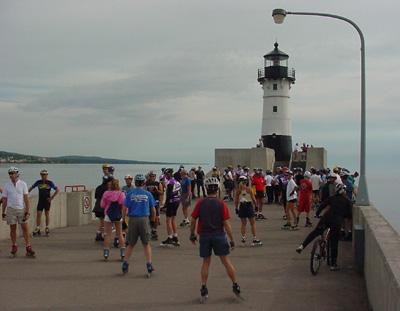 North Pier Lighthouse in Duluth, Minnesota

Copyright © Terry King


Many towns and cities in the United States have weekly group social skates that are always fun events. The Inline Club of Boston, the Washington DC Road Skaters, the Philadelphia Landskaters, and many clubs in Florida have some of the most well-organized group skates in the country. The group skates on the West coast are typically not as structured and organized as those in other parts of the U.S. but they are still great fun. San Francisco's "Midnight Rollers" Friday Night Skate is probably the most famous night skate in the U.S. and some say it was the first Friday night skate in the world. Other high-profile group skates in California are the Santa Monica Friday Night Skate, which moves to Hollywood once a month, and the Saturday Morning Fun Roll which is a social skate on the Southern California coast between Huntington Beach and Balboa Harbor. The best way to learn about group skates in your area is to contact your local skating clubs.
Weekly Group Skates by USA State
Local Skating Clubs by USA State
http://www.skatelog.com/countries/us/clubs.htm




Dance in Your Skates


One of the biggest thrills a recreational skater can have is to visit one of the outdoor roller dance circles where the best skate dancers hang out. Even if you've never done any roller dancing in your life, you will soon find yourself rocking and rolling to the music along with the pros. The most well-known roller dance scenes in the country are Central Park in New York City, Golden Gate Park in San Francisco, and Venice Beach in Southern California. Don't expect to see any action if you visit any of these areas Monday through Friday. If you're lucky you might see a few skaters during the week, but you really need to be there on a warm Saturday or Sunday afternoon to experience the scene. In San Francisco's Golden Gate Park the big day is Sunday, because that's when John F. Kennedy Drive is closed to motorized traffic. There are roller dance circles in many parts of the country, but here are the most high-profile spots:


New York - Central Park (New York City)
California - Venice Beach (Los Angeles)
California - Golden Gate Park (San Francisco)
Georgia - Piedmont Park (Atlanta)
Illinois - Lakefront Trail (Chicago)




Race in Your Skates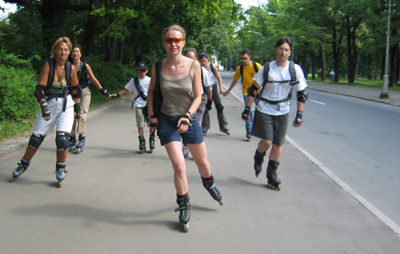 Copyright © Terry King


For a real confidence booster, recreational skaters should try entering one of their local street skating races, perhaps starting with a 10k event and working their way up to a full marathon. Most recreational skates could finish a full marathon after as little as 3 to 6 months of training, and many of them are unknowingly already skating a full or half marathon distance during some of their recreational skates. Here are some of the annual inline skating marathons in the United States, and some of them have also have shorter events like half marathons or shorter fun rolls.


Arizona - Cactus Classic in Tucson
California - Long Beach Marathon
California - Napa Valley Marathon
Florida - Disney World Marathon
Minnesota - Northshore Marathon
Minnesota - Saint Paul Marathon
Texas - Great Skate of Texas
Wisconsin - Big Granite Marathon
---
This Article first appeared in the Spring 2004 issue of "USARS Magazine", the official publication of the United States Roller Sports Federation. You can become a recreational skating member of USA Roller Sports for $20 USD, and that membership includes (at no extra cost) a 1 year subscription to USARS Magazine and also a 1 year subscription to FaSST Magazine. To join USARS as a recreational skating member download the USARS MEMBERSHIP APPLICATION (PDF format) and select the $20 Recreation Membership if you do not plan to participate in the official USARS speed, artistic, or hockey programs. If you do not wish to become a member of USARS at this time, you can purchase a one year subscription to their magazine for $12 a year, or $18 a year for addresses outside the United States.
---
Related Links
Skating in 50 USA States
Skating in 100 Countries
---
Skating in Africa | Skating in Asia | Skating in Europe | Skating in Oceania | Skating in The Americas
Inline Skate Shop
Roller Skate Shop