Roller Derby Books
Roller Derby Videos
---
Westlake Skate Center in Mosquite Texas
Home of the Giant Roller Skate

There is a giant roller skate parked in front of the Westlake Skate Center in Mosquite, Texas that has been there for many years.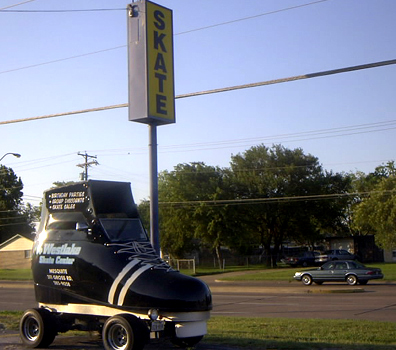 Copyright © Westlake Skate Center
My Questions about The Giant Roller Skate
When I came across this photo on the Web of a giant rollerskate I asked the international skating community if any of them had ever seen this skate and if it was really as big as it looked.

Reply from an Artist Who Grew Up In Mosquite
In May of 1994 I received more information about the giant roller skate from artist and long-time Mesquite resident Lucy Jean Kilhullen: "Yes that roller skate IS as big as it looks. It is actually a car (or more of a truck) that the owners drive around town in to advertise their roller skating rink. I grew up in Mesquite so I saw it almost daily. It is about the size of an S-10 pickup truck and the height is somewhere between an U-Haul moving truck and a 18 wheeler trailer."


---
Related Links
Roller Skating Rinks in Texas
Skating Rinks Around the World
Skating in Texas - Main Menu
---
Skating in Africa | Skating in Asia | Skating in Europe | Skating in Oceania | Skating in The Americas
Inline Skate Shop
Roller Skate Shop