A video by United States downhill skater Frank Boyd. The focus of the video is off season training for downhill skiers: "How to inline skate down asphalt hills during the summer months to improve your slalom, GS, Super G, and downhill techniques... or how to stay in shape for pleasure skiing".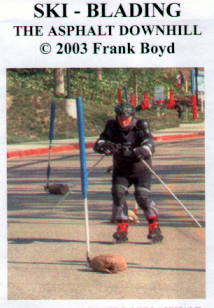 For more information about this video and also for purchasing instructions visit the official Ski Blading Video Web site.
---
Visit Our 12 Skating Forums

Forums for discussing aggressive, artistic, beginning, hockey, fitness, recreational, roller basketball, roller derby, roller dancing, rollersoccer, quad skating, slalom skating, and speed skating.
---
Related Links
Four USA Downhill Skaters (Photo)
Downfall of a Downhill Skating Champion
Downhill Skating - Main Menu