Roller Derby Books
Roller Derby Videos
---
Chad Hedrick Inline Speed Clinic Tour
Starting in February of 2003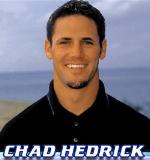 © Hyper Racing

Chad Hedrick, the most celebrated inline speed skater in the history of the sport, will be conducting a series of indoor speed skating clinics in 2003. The clinics will be held in different parts of the United States to help draw new skaters into speed skating and promote the sport of inline skating in general.

Chad will give personalized instruction to the workship participants and he will share some of the special training tips and techniques that helped him win more world championship gold medals than any other skater in history.

The clinics will include practice sessions, personal technique evaluations, video analyses, dry-land exercises, off-skate techniques, nutrition advice, race strategies and performance enhancement through goal setting and visualization.

The first clinic in the tour will be held February 1-2, 2003 in Donora, Pennsylvania at the Valley Skating Center. For more information about that clinic see the Announcement on the Hyper Speed Message Board or contact Jim Larson at hynitrous@aol.com.


---
Related Links
2002 Chad Hedrick Clinic (Photos)
Hyper Inline Speed Team
Hyper Racing - Home Page
Hyper Wheels - Home Page
Inline Skate Shop
Roller Skate Shop