Roller Derby Books
Roller Derby Videos
---
Happy Father's Day to Skaters Around the World
June 20, 2004

Happy Father's Day 2004 to the fathers of skaters all over the world and also to skaters who are fathers themselves.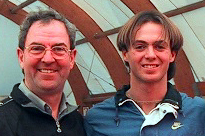 Mario and David Vitta of Trieste, Italy
---



It's never too late to add your own photos to this page. You can send dad/kid photos anytime, all year long. Send photos of skating dads to kathiefry@skatelog.com and they will be added to this page (skaters can be pros or beginners or anything in between, and either the father or the child can be a skater).


---
Related Links
All Skaters by Country
Skating in 100 Countries
Translate Any Web Site or Phrase
---
Skating in Africa | Skating in Asia | Skating in Europe | Skating in Oceania | Skating in The Americas
Inline Skate Shop
Roller Skate Shop