Roller Derby Books
Roller Derby Videos
---
Oleg Vigodsky of Russia With His Son Daniil

Oleg Vigodsky of St. Petersburg, Russia inline skating with his son Daniil in Victory Seaside Park on Krestovsky Island in the city of St. Petersburg, Russia. This photo is very special to me because I have skated with Oleg in Russia many times, but this is the first opportunity I have had to see his beautiful son (Hello Daniil, from Kathie in California - I hope you will skate with us the next time I visit Russia!)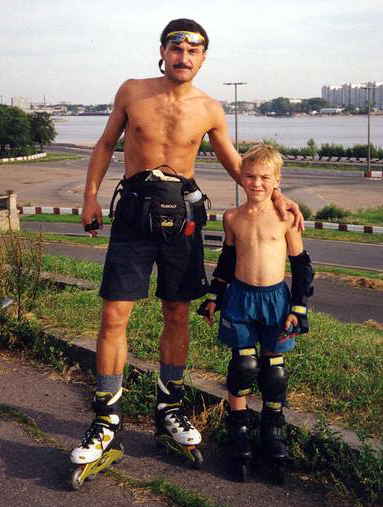 Copyright © Oleg Vigodsky


I have skated quite a few times in Victory Seaside Park. It is really the best place in St. Petersburg, Russia for skating, because of its lovely tree-lined roads and beautiful views across the Baltic Sea. Every time I visit St. Petersburg there are more and more skaters in this park. There are cone skaters, artistic skaters, and aggressive skaters in the large open area below the stadium, speed skaters and roller skiers on the auto racing track that surrounds the stadium, and recreational skaters on the tree-lined roads that run all over this vast island park.

For photos and more information about skating in Russia see the 9 part article Introduction to Skating in Russia and also be sure to visit Oleg's "Skating in St. Petersburg" Web site at Inline.spb.ru. Oleg has created a special English language section on this Web site for his visitors who are not able to read Russian.
---
Related Links
Father's Day Special for Skaters
Index to Skaters by Country
Skating in Russia
Skating in 100 Countries
---
Skating in Africa | Skating in Asia | Skating in Europe | Skating in Oceania | Skating in The Americas
Inline Skate Shop
Roller Skate Shop