Roller Derby Books
Roller Derby Videos
---
Will FIRS President Isidro Oliveras Resign This Week?
More About the Controversy at the FIRS Congress in Fresno
I have heard rumors that Isidro Oliveras, the president of the International Roller Sports Federation, will resign if the FIRS Executive Committee does not accept the Catalonian Federation as a full member at the November 2004 FIRS congress in Fresno, California. I have not been able to confirm that rumor with President Oliveras, but because it has been widely reported, roller sports federations around the world are waiting anxiously to find out what will happen this week at the FIRS Congress in Fresno.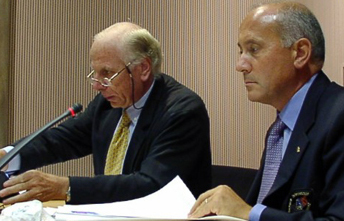 FIRS President Isidro Oliveras (left) with FIRS General Secretary Roberto Marotta (right)
Copyright © Kathie Fry of SkateLog.com
2004 NOVEMBER 24 - FRESNO, CALIFORNIA: The Annual Congress of the International Roller Sports Federation will take place November 24-26, 2004 in Fresno, California where the 2004 Artistic Roller Skating World Championships are also taking place.

Among the issues to be voted on at that meeting are whether or not the 13 Roller Sports Federations who were granted provisional affiliation with FIRS in March of 2004 will have their affiliations finalized and confirmed.

A large controversy has developed around the provisional recognition of the Catalonian Federation because Catalonia is a region within Spain, and because Isidro Oliveras, the president of FIRS, is from Catalonia. There have even been reports that President Oliveras will resign this week if Catalonia's provisional recognition is not ratified, and also reports that the Olympic Committee of Spain may file a disciplinary action against the FIRS president because of comments he made in favor of Catalonia becoming a member of FIRS.

When the Catalonian Federation was granted provisional FIRS membership last March, the Spanish Federation filed a formal protest. On Thursday, November 25, both the Spanish and Catalonian Federations will be given an opportunity to make their case before the FIRS Executive Committee. At that meeting it will be determined if the March 2004 provisional recognition of Catalonia will be overturned or allowed to remain in place.

On Friday, November 26, if Catalonia is still a provisional member of FIRS, there will be a vote to determine whether or not Catalonia and 12 other Roller Sports Federations will be become full members of FIRS.

The members of the FIRS Executive Committee who will rule on the Spanish Federation's appeal are:


Isidro Oliveras of Spain (President of FIRS)
Ernesto Gonzalez Molina of Argentina (1st Vice President)
Roberto Marotta of Italy (General Secretary + Speed)
James Pollard of the USA (Artistic)
George Pickard of the USA (Inline Hockey)
Harro Strucksberg of Germany (Quad Hockey)
Sabatino Aracu of Italy (Europe)
Carlos Orlando Ferreira of Colombia (America)
Valerie Leftwitch of Australia (Oceania)
Nabih el Alkamy of Egypt (Africa)
All of the above members were present at the March 2003 meeting giving Catalonia provision recognition except Mr. Sabatino Aracu of Italy and Dr. Alkamy of Egypt. Several news reports have said Mr. Aracu is not in favor of admitting the Catalonian Federation. Mr. Yoshiro Noguchi, who represents Asia, will not be present at the November 2004 Fresno meeting because of illness. President Oliveras will have a vote if there is a tie after the other FIRS Executive Committee members have voted.

No one is certain what will happen this week and what decisions FIRS will make about the protest filed by the Spanish Federation and making Catalonia's provisional affiliation final. I have friends on both sides of this tense situation and few of them are comfortable making a prediction. Anything could happen this week.

Will FIRS rule for or against the Spanish Federation's protest on November 25? Will Catalonian become a full member of FIRS on November 26? If Catalonia is rejected will FIRS President Oliveras resign as has been reported by some members of the press? I will be waiting anxiously on November 25 and 26 to find out how the situation plays out.
---
Related Links
13 Federations Granted Provisional FIRS Affiliation
More About the FIRS Catalonia Controversy
Catalonian "Freedom" Wins Gold at Artistic Worlds
---
Skating in Africa | Skating in Asia | Skating in Europe | Skating in Oceania | Skating in The Americas
Inline Skate Shop
Roller Skate Shop