Roller Derby Books
Roller Derby Videos
---
Meet Valerie Leftwich of Australia
Candidate for 1st Vice President of FIRS
FEBRUARY 2005 - Valerie Leftwich of Australia has officially been nominated to run for the position of First Vice President of the International Roller Sports Federation (FIRS) and she has accepted that nomination. The resignation of former FIRS President Isidro Oliveras in November of 2004 left openings for a new FIRS President and 1st Vice President, and those new officers will be elected at a special FIRS meeting scheduled to take place in Rome, Italy on February 12, 2005.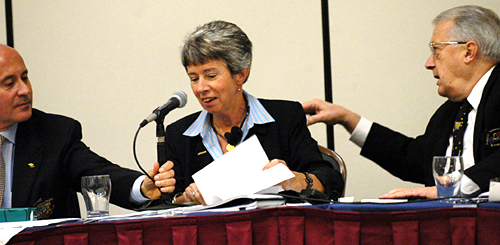 Copyright © Kathie Fry of SkateLog.com

Valerie Leftwich with FIRS Speed Committee President Dr. Roberto Marotta (left) and Inline Hockey Committee President George Pickard (right) at a November 2004 FIRS Congress and Meeting of the General Assembly in Fresno, California.


Who is Valerie Leftwich?
For the last 10 years, Valerie Leftwich has been president of the Oceania Confederation of Roller Sports and for the last 12 years she has been president of the Australian Roller Sports Federation. She has attended every meeting of the FIRS Central Committee since she first became a member ten years ago.

The Position - 1st Vice President of FIRS
The FIRS 1st Vice President is the person first in line to assume the presidency if the current president is unable to fulfill their duties for any reason.

History of Supporting All Roller Sports Disciplines
Ms. Leftwich has demonstrated a keen interest in developing all roller sports disciplines, including speed, artistic, inline hockey, and hardball hockey. She has been the executive director of a speed skating world championship event, judged artistic roller skating events and been the director of two artistic world championships, and she has served as a member of the FIRS Inline Hockey Committee to help develop that sport and expand the women's international inline hockey program. Australia is committed to hosting a world championship event in 2007 and she and the Australian Federation are seriously considering hosting the Hardball Hockey "B" World Championships.

International Olympic Committee Connections
In Australia, Roller Sports is recognized by the Australian Olympic Committee and Valerie Leftwich has attended meetings with members of the International Olympic Committee, who have full confidence in her abilities.

An Early Interest in Roller Sports
Valerie Leftwich started skating herself in the 1950's in England, and that was the beginning of her interest in the sport. After she immigrated to Australia in 1967, she was inspired by her love of skating to open two roller rinks near the city of Sydney.



A Quote from Valerie Leftwich


"At the present time I hold the position of FIRS Vice President representing Oceania and I would like to continue on the FIRS Central Committee as 1st Vice President, and continue working with FIRS at this important time leading up to a decision on our inclusion in the Olympic Games. I was requested by several countries to be nominated for the position of FIRS President, and while I was proud to receive those expressions of confidence, I feel Mr. Sabatino Aracu of Italy is in a much better position politically and geographically to carry out that appointment. I am confident that he will be elected and will carry out the duties of president in a professional manner. The International Olympic Committee charter calls for the active involvement of women on sports committees and I feel I can fulfill that role very well in the position of 1st Vice President. I have been representing women on the FIRS Central Committee for several years under the guidance of Mr. Oliveras and I am quite sure I could work with Mr.Aracu in a similar manner. It is important as we stand on the threshold of being an Olympic sport, that we are seen to be doing everything we can to make this happen."



Recommendations


From Former FIRS President Isidro Oliveras: When former president Isidro Oliveras resigned from his position as the head of FIRS in November of 2004, one of his last statements to the general assembly was "Why not have the first woman president of FIRS, and who would be better then Valerie Leftwich of Australia".

From International Speed Coach Bill Begg "Valerie is a successful business woman and a straight shooter. She is interested in all branches of the sport and is not likely to be railroaded by others. She would be an asset to FIRS".

My Recommendation: Valerie Leftwich would make an honest and level-headed First Vice President of FIRS. She has many years of experience in high level positions in the world of international roller sports and has demonstrated her interest in supporting all of the different roller sports disciplines. I believe she will be a unifying force in roller sports instead of a divisive one, which is one of the things our sport needs most right now. In my opinion, Ms. Leftwich has a high level of integrity and is not likely to be unduly influenced by political pressure that is not substantiated by facts or based on what is best for the sport. I support Valerie's nomination for the position of 1st Vice President of FIRS and I fully expect that she will be elected to that position on February 12, 2005.
---

Related Links
FIRS President Isidro Oliveras is Expected to Resign
All Articles Published by FIRS in 2005
Official FIRS Web Site (RollerSports.org)
Translate Any Web Site or Phrase
---
Skating in Africa | Skating in Asia | Skating in Europe | Skating in Oceania | Skating in The Americas
Inline Skate Shop
Roller Skate Shop