Roller Derby Books
Roller Derby Videos
---
Did Roller Skating Miss the Olympic Bus Again?
This article about the possibility of inline skating and other roller sports making it into the Olympics was was originally published at About.com on September 4, 2001 when I was the editor of their inline skating Web site.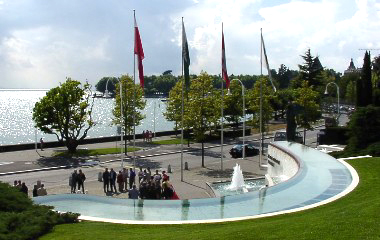 Olympic Park in Lausanne Switzerland
Copyright © Kathie Fry of SkateLog.com
The world headquarters of the International Olympic Committee is in Lausanne Switzerland, and while I was in that city for the 2001 Downhill World Championships and Lausanne Roller Contest I purchased a copy of the official Olympic Charter that was in force as of September 11, 2000. I wanted to find out for myself what is required to have a new sport admitted to the Olympic Games.

I read with particular interest Section 52 of the Charter, entitled "Admission of Sports, Disciplines, and Events". This is the section that lists the requirements that must be met before any sport can be considered for inclusion in the Olympic Games. I read this section very carefully, and it appears that these are the minimum requirements:



Minimum Requirements to Be An Olympic Sport



The Sport Must be Widely Practiced

"Only sports widely practiced by men in at least seventy-five countries and on four continents, and by women in at least forty countries and on three continents, may be included in the programme of the Games of the Olympiad." For Winter sports, the criteria is 25 countries on 3 continents.
(Olympic Charter Section 52, Paragraph 1.1.1)



The Sport Must Have International Standing

"To be included in the programme of the Olympic Games, events must have a recognized international standing both numerically and geographically, and have been included at least twice in world or continental championships."
(Olympic Charter Section 52, Paragraph 3.2)


There Must be Drug Testing

"Only sports that apply the Olympic Movement Anti-Doping Code and in particular perform out-of-competition testing in accordance with the rules of the World Anti-Doping Agency will be included in the programme of the Olympic Games."
(Olympic Charter Section 52, Paragraph 1.1.3)


There Must Not Be Mechanical Propulsion

"Sports, disciplines or events in which performance depends essentially on mechanical propulsion are not acceptable."
(Olympic Charter Section 52, Paragraph 4.2)
Does Our Sport Meet Those Requirements?


Does roller skating conform to the criteria established for Olympic sports? I know the International Roller Sports Federation (FIRS) and other organizations and individuals have worked very hard in the last few years to make sure roller skating does meet all of those requirements.

There are certainly international competitions for roller hockey, artistic skating and speedskating, and all three of those disciplines are included in the Pan American Games. Roller hockey was even played as a demonstration sport at the 1992 Olympics in Barcelona, Spain.

I'm not sure how many roller skating events have drug testing, but I assume it is done at all international events sanctioned by official federations. I know it was done at the 2001 World Downhill Championships in Lausanne Switzerland, because I recall hearing Dan Burger, one of the two skaters selected for testing, lament about being "too dehydrated to pee in a cup".

If there is a problem getting roller skating into the 2008 Olympics, I don't believe it will be caused by not meeting the minimum criteria. Meeting those requirements is only part of the equation. The bottom line is that the International Olympic Committee has to agree to accept roller skating into the program. Because they have to limit the size of the games, it might mean that another sport has to be "kicked out" of the games. So getting into the Olympics is not as simple as meeting a list of requirements.



What About The 7 Year Time Limit?


If the Olympic committee wants to accept roller skating as an Olympic sport in the 2008 games, is it too late for them to do it? Look at this paragraph in the Olympic Charter:


Section 52, Paragraph 4.2

"Sports are admitted to the programme of the Olympic Games at least seven years before specific Olympic Games in respect of which no change shall thereafter be permitted."
(Olympic Charter Section 52, Paragraph 1.1.4)
Upon first reading this paragraph, it looked like we were already too late to have our sport admitted to the Olympic Games. But then I read it more carefully. Correct me if I am wrong, but it seems that roller skating is ALREADY considered an Olympic Sport, so the 7 year time limit does not apply.

A little background: Before a sport can be an Olympic event, the Olympic Committee must accept first the Sport, then the Discipline, and finally the Event (your sport and discipline may have been accepted, but if your event has not, your athletes will not participate in the games). New disciplines must be added 7 years before specific games, and new events must be added 4 years before specific games. There are no provisions in the Charter for waiving the 7 year time limit for adding a new Sport, but there ARE provisions for waiving the time limit for adding new Disciplines and Events. So if Roller Skating is already an Olympic Sport, then there is still a possibility of having a roller skating event in the 2008 Olympic Games.



Will Roller Skating Be Olympic in 2008?


After reading the Olympic Charter, and talking to the members of the International Federation, I am still very hopeful about the possibility of getting roller sports into the 2008 Games. Some people think that road racing has a better chance than track racing, artistic skating, or roller hockey, because road skating does not require any new facilities, such as a track or a rink, to be built in Beijing, the site of the 2008 Olympic Games.

In the end, whether or not our sport is admitted to the games will depend on how the members of the Olympic Committee feel about roller skating as an Olympic sport. We have 3 more years to convince them!


---



Join the Discussion

Do you have any ideas for increasing the visibility of our sport and enhancing its reputation and popularity over the next 3 years? How do you feel about drug testing at skating events? Does anybody NOT want roller skating in the Olympic Games? Connect to this Roller Sports in the Olympics Discussion in the SkateLog Forum at AskAboutSkating.com and tell us what you think.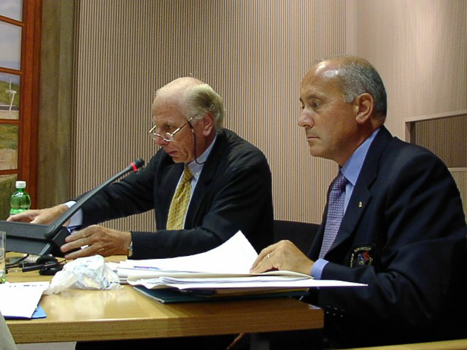 The Executive Committee of the International Roller Sports
Federation at (FIRS) at the Olympic Center in Lausanne Switzerland
Copyright © Kathie Fry of SkateLog.com
---
Related Links
Olympic Roller Skating - Main Menu
More About the Olympic Games
Skating in 100 Countries
Translate Any Web Site or Phrase
---
Skating in Africa | Skating in Asia | Skating in Europe | Skating in Oceania | Skating in The Americas
Inline Skate Shop
Roller Skate Shop