Roller Derby Books
Roller Derby Videos
---
Meet the Beck Family Rollers
The Beck Family Rollers are a family of show roller skaters based in San Diego, California who perform in cities all over the United States to entertain audiences and promote roller skating.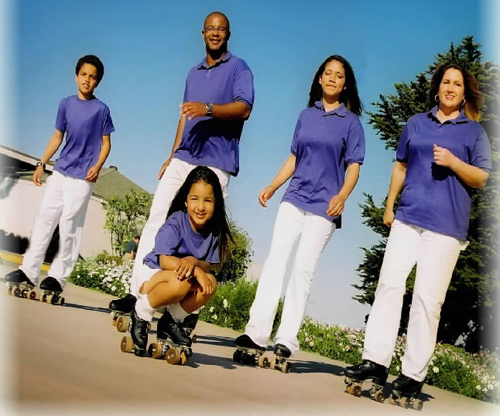 Copyright © Beck Family Rollers
---
More About the Beck Family Rollers
The Beck Family rollers is a troupe of dynamic, synchronized roller skaters who range from 4 to age 50.

What Do They Do and Why?
They perform high-energy choreographed skating routines at various events to promote fun, fitness, and creativity through roller skating. Another of their goals is to renew the public's interest in traditional quad roller skating and breathe new life into local roller skating rinks.

Where Do The Do It?
The Beck Family Rollers has performed in cities from coast to coast in the United States including Atlanta, Chicago, Las Vegas, Los Angeles, and many more.

Sound System
The Beck Family rollers normally travels with their own sound system and DJ.

Contact the Beck Family Rollers
Beck's Entertainment and DJ Services
Phone: 619-440-0797
Phone: 888-32-BECKS
Phone: 619-246-BECK
Web Site: Becks Entertainment
---
Visit Our 12 Skating Forums

Forums for discussing aggressive, artistic, beginning, hockey, fitness, recreational, roller basketball, roller derby, roller dancing, rollersoccer, quad skating, slalom skating, and speed skating.
---
Related Links:
Skating Shows - Main Menu
Skating in 100 Countries
Translate Any Web Site or Phrase
---
Skating in Africa | Skating in Asia | Skating in Europe | Skating in Oceania | Skating in The Americas
Inline Skate Shop
Roller Skate Shop