Roller Derby Books
Roller Derby Videos
---
Skating from Rosarito to Ensenada Mexico in 2000
by Dan Benveniste
In 2000 Dan Benveniste of Southern California skated the 50 mile Rosaroto to Ensenada Roll with thousands of cyclists and a few of inline skating friends.
SKATING ROM ROSARITO TO ENSENADA

by Dan Benveniste


It all got started, when I announced to the Los Angeles Friday Night Skaters, that I was planning to crash the Rosarito to Ensenada Bike Run. Twice a year, about 15,000 bikers gather in Rosarito Mexico and cycle 54 miles down the public coast highway to Ensenada. It a hell of a run. 60% of the route is up-hill, and some of the hills between those two Mexican cities are incredibly steep.

After finishing the Friday Night Skate at about 11:00 p.m., about 6 of us decided to do Mexico. By 1:00 a.m. we were all packed in my car and on our way. At 3:00 a.m., we arrived in San Diego, slept for about 4 hours, skipped breakfast, and by 7:00 a.m., we were on our way to Mexico. We finally reached Rosarito about 20 minutes before the start of the event. Cyclists were every where, thousands upon thousands, all lined up at the starting line, and going back for blocks on end.

wasn't long before I lost my group in the crowd. I figured I would catch up with them at the end of the ride....

Somehow I was able to work my way over to the starting line just as the starting gun went off - BAM!! The starting gun went off, and everyone took off. It was an endless wall of speed bikers. I started off by drafting a speed biker as he was weaving through all the other bikers. We were packed in tight! I was about 3 inches from the biker in front of me and there were more bikers right behind me. I was also boxed in on both sides, and we were going about 25 miles per hour. Suddenly, my right skate clipped one of the Sol Cervsa sponsored pro bikers and down he went. He crashed into the side of the road, feet over head, forming a big cloud of dirt. Normally, I would stop to make sure he was OK, but his angry shouting

After about 5 miles, many of the speed bikers past me and the crowd thinned out. The road was a lot rougher than I expected, but it was skatable. The route was extremely hilly, and some of the hills seemed to go up and up forever. It's a crazy feeling getting to the top of some extremely steep hill and then seeing that the next hill is twice as long and just a steep. One hill, call El Tigre, went straight up for 3 miles. Of course for every uphill there was a downhill. And those downhills were a skaters dream. After 37 miles, I reached the largest of the down hills, 7 miles down, and closed to traffic. It was orgasmic. It felt like I was freefalling on skates, zipping through the countryside, the ocean on one side, the mountains on the other, doing somewhere around 30 mph. You can't beat that feeling!

There were crowds all along the road, and because there were no more than 25 skaters, the crowds would start cheering every time I passed them. Of course, being a bit of a show off I would skate past the larger crowds on my toes, or backwards, or doing some other trick to rally up the crowd a bit.

There were also hundreds kids on the side of the road, all along the route. It is a tradition for the bikers to throw candy at the kids, who would patiently wait for these free hand outs. The kids would also cheer me on because I stood out from the endless steam of bikers. Most of them would hold out their hand for me to slap, as I skated by. On some of the downhills, there would be about 20 kids lined up, all holding out their hands. I would skate down really low, on toe and heel, so I would be at their level, and then slapped their hands as I zoomed by at 20 miles per hour. All the kids would laugh with excitement.

The road seemed like it would never end. But finally I saw Ensenada in the distance. I was so relieved. I finished the run under four hours. And because I was the first skater to finish, the crowds at the finish line just went nuts. The crowds must have lined the roads at least 4 blocks from the finish line and they were just cheering and yelling. It was a real party atmosphere, and a good portion of them had done their share of drinking, so that would explain some of their excitement.


I would definitely recommend this run to other skaters, however it is very difficult. You have to me very good at skating up hills and skating on poor roads. I skated this in my 4 wheel Roller Blade Pro 4 skates, and I left my my speed skates at home. It wasn't a race, so I gave up speed for comfort and more maneuverability.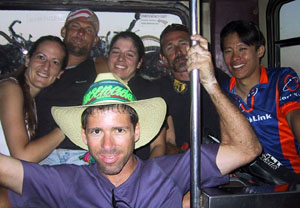 Copyright © Dan Benveniste
---
Related Links
Dan Benveniste - Main Menu
Skating in Mexico
Skating inf 100 Countries
---
Skating in Africa | Skating in Asia | Skating in Europe | Skating in Oceania | Skating in The Americas
Inline Skate Shop
Roller Skate Shop