Roller Derby Books
Roller Derby Videos
---
Daniel's Wild Week in Mallorca - Day 4
Part: 01 - 02 - 03 - 04 - 05 - 06 - 07 - 08 - 09 - 10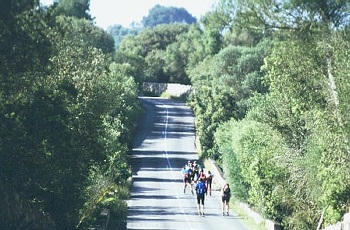 Photo Credit: Ulf Haase
A WEEK OF SKATING IN MALLORCA, SPAIN (Day 4)
by Daniel Edman of Stockholm, Sweden
On Wednesday we skate through Sa Pobla toward Büger which is located on an adjacent hill. On the road to Sa Pobla there is an accident in the queue. Karolin, who is skating just in front of me, suddenly falls flat on the asphalt. Somehow I manage to get past/over her without getting tripped. I guess I´m not a nice sight with my arms going like propellers in the air, but I manage to stay on my wheels/feet and that is what counts. The injuries are not too extensive. Just some scratches on the left hip and elbow. Interesting is that Karolin was using elbow protection which just slid away when making contact with the ground. Maybe wrist and elbow guards should be connected to each other to prevent this?

Büger has a church and a windmill high there upon the hill, both of which clearly visible from quite a distance. Büger also has a steep uphill leading in, and an equally steep downhill leading out of the village. Esko, who has no rear-mount brake, decides to save his wheels and gently walks down from Büger in his bare socks, while the rest of us either do very tight slalom turns or use the brake in order to control speed out of the village.

Crossing the main road and soon thereafter we enter Campagnet which is a village located on the next hill. We skate through the narrow streets of Campagnet and when leaving the village we find a wonderful downhill which proves to be a pretty tough uphill once we realize we are lost and have to go back up to Campagnet again. But "no pain, no gain" is a good motto, so we strive back up to Campagnet for the second time.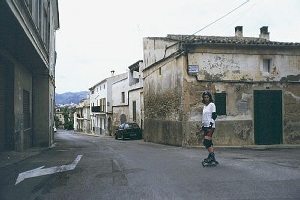 Village of Campagnet

Photo Credit: Ulf Haase


Then we continue via Moscari and Selva to Biniamar, where we find this little bar and ask for lunch. -"Possible comer aqui? Pasta grande, porque tenemos hambre. Mucho hambre!", we try with hand gestures showing exactly how much pasta we would like to see on the plates. Somehow the bar owner seems to understand our desires and a table is laid in the nice and cold room behind the public bar. On the table there is bread, oil and absolutely fresh olives, which after a while get company by 8 plates of delicious pasta and several bottles of cool water. The pasta is $2.50 and if I ever come back I will definitely stop here for another round!

After this delicious pasta we roll toward Lloseta and Binissalem, then southeast to Sencelles and further south past Cas Canar down to the main road to Sinéu. From Sineu we skate via Llubi and Sa Pobla back.

The total distance of the day is 87 kilometers and I´m tired. After 4 days and approximately 250 kilometers on skates I decide I´m worth a day off. There is no evening tour this day.





<-- Part 4 | Part 6 of this Article -->




---
Related Links
Daniel's Wild Week in Mallorca - Part 1
Daniel Edman - Main Menu
Skating in Spain
Skating in Sweden
---
Skating in Africa | Skating in Asia | Skating in Europe | Skating in Oceania | Skating in The Americas
Inline Skate Shop
Roller Skate Shop