Roller Derby Books
Roller Derby Videos
---
Daniel's Wild Week in Mallorca - Day 7
Part: 01 - 02 - 03 - 04 - 05 - 06 - 07 - 08 - 09 - 10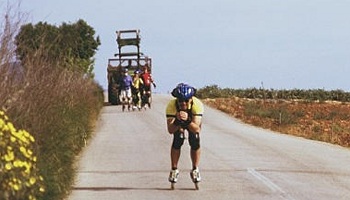 Photo Credit: Ulf Haase
A WEEK OF SKATING IN MALLORCA, SPAIN (Day 7)
by Daniel Edman of Stockholm, Sweden
The airport transfer bus does not leave until 8 p.m. on this, the very last day of the week, which allows us to use the entire day for skating.

Skating departure is set to 8:45 a.m., for a slow skate up to the bus stop for catching the bus to Inca and starting to skate from there. I´m 3 minutes late and I catch up with the group at the bus stop, but since we skated this particular route from Inca the day before I´m not very keen on doing it again. So I ask if anyone is interested in skating in the opposite direction to meet the group in Llubi or so. No luck with that attempt so I decide to go alone since the morning is beautiful with almost no wind.

I take off along the now well-known road toward Sa Pobla. This Saturday morning there is almost no traffic, I count some 4 passing vehicles and another 4 or 5 from the opposite direction, so I use almost the entire road lane and manage to find that comfortable "minus 10% pace" again.

Looking over my shoulder after a while, I spot a lonely bicyclist in what seems to be full racing outfit. Knowing that racing bicyclists are faster than me, I do not pay much attention and just keep waiting for the familiar sound of a bicycle from behind in my left ear. But that sound never comes and I have to look a second time, and when doing so I realize he has not gained as much as expected, and the idea of being the first of us to reach Sa Pobla strikes my mind.

The "minus 10% pace" is history now, and it is racing speed all the way to Sa Pobla. All of a sudden there is also a head wind that is forcing me to tuck down and work really hard. A while later I´m the first to cross the Sa Pobla border but when reaching for my water bottle in the waist bag the bicyclist passes me. Unfortunately he is not a 25 year old bicycle pro, but rather he is a 55 year old German gentleman who has had more than one wiener schnitzel and beer in his day.


Photo Credit: Ulf Haase


From Sa Pobla I am lonely again and the pace is back to "minus 10%" while cruising toward Llubi. At the intersection with the main road from Muro, I get another 4 dressed-up bicyclists some 400 meters behind me. Automatically the speed increases and again I´m awaiting that bicycle sound approaching from behind. A few minutes later it is time for that second look over the shoulder, and none of these bikers have gained as much ground as they should. So my mind sets up another goal; being the first of us to cross the Llubi village border.

The final stage to Llubi is uphill and maybe that is the reason why they do not catch me, cause when reaching Llubi I still have a 250 meters advantage. It is not until I carefully do my speed controlling slalom turns in-between the stone walls of the aged Llubi buildings, down the pretty steep downhill, that they catch and overtake me. Then they short-cut through a triangular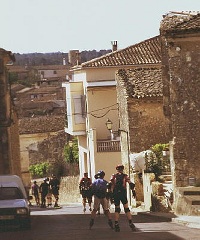 Llubi store and gain 20 meters on me. When I notice they are heading for Inca, I find myself in a tricky situation. What to do? Should I be satisfied with having reached Llubi ahead of my skating friends and just wait for them to arrive, or should I join the German bicyclists and try to go as far as possible before I meet my fellow skaters?

Some 5 to 10 powerful strides later I catch up with the bicyclists and decision-making is history. They notice I´m back and the speed increases. Bear in mind that we are on an excellent road surface and I have a nice ride in the draft behind the four bikes. It should also be pointed out that one of the bicyclists happens to be a young lady with a somewhat inspiring "behind", so I keep my tail position and let myself get more and more "inspired". In a slight uphill the two elder bicyclists seem to loose steam so I overtake them to stay right behind the young lady who is trailing the leader. Skating right behind the lady all my fatigue and tiredness just seem to disappear... I just wonder why?

Reaching the next even longer uphill I decide it is time for a conversation so I pull up alongside the leader and we share a few words. Or rather, I do my best to keep it together; to skate, to compose German sentences and to appear totally unaffected. He seems to understand my German and asks how long I have been skating. I tell him I have been inline skating for 5 years, but also that we Swedes do long distance ice skating in the winter time and that these disciplines do have much in common. He seems impressed and I tell him we skated in the mountains the day before. I´m careful to underline that we only skated uphill. If I had been fluent in German I would have added something about "only sissies going downhill...".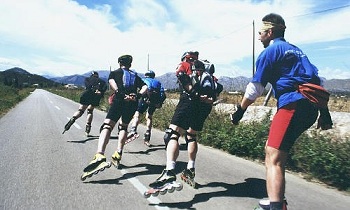 Photo Credit: Ulf Haase


I reflect over the fact Inca is not far away and I still have not met my fellow skaters from the bus. The thought of reaching Inca ahead of them suddenly hits my mind and I keep right behind the bicyclists that are doing between 30 and 37 km/h according to their gauges. Outside Inca I say "Thanks" to the Germans and they shout something back that I cannot hear, but I'm assuming it was something polite. Not being sure about exactly where to find the Inca bus station I decide to stop along the road at the exit where my fellow skaters are likely to come. I put on dry socks, have some water and add sun protection on my arms and neck before I suddenly recognize Johan's colorful shirt at the lead of the pack. I´m reunited with the group!

Totte who did not see me take off alone in the morning asks whether I caught another bus or came by taxi. Not even my sweaty T-shirt is wet enough to convince him I actually skated all the way. He mutters something about not knowing what to believe and not being able to trust anyone in this gang. All I can do is smile!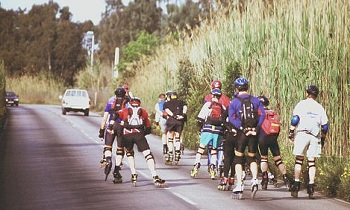 Photo Credit: Ulf Haase


With the fitness skaters up front and speed lovers at the rear we skate back on the same road I just traveled, but this time with a moderate speed providing plenty of time for recovery. We skate Llubi - Maria de la Salut - Son Suan - Santa Margalida - Son Sorro - Muro - Son Serra - Can Picafort - Port d´Alcudia, which in my case counts 95 kilometer. The bus users will have to take 30 kilometers off that distance.

In Can Picafort we find a small bar on the waterfront where we stop for a beer before cruising the final 10 kilometers north, back to Port d´Alcudia.

Once at the hotel I could look back at a marvelous week including 460 kilometers on skates and a mountain climb on foot. Johan and a few others passed the 500-kilometer mark, but on the other hand they never put their feet on the summit of the second highest mountain of Mallorca!





<-- Part 7 | Part 9 of this Article -->



---
---
Related Links
Daniel's Wild Week in Mallorca - Part 1
Daniel Edman - Main Menu
Skating in Spain
Skating in Sweden
---
Skating in Africa | Skating in Asia | Skating in Europe | Skating in Oceania | Skating in The Americas
Inline Skate Shop
Roller Skate Shop