Roller Derby Books
Roller Derby Videos
---
Dave's Inline Skating Fall
In September of 2001 Dave Parcells of Detroit Michigan took a bad fall on inline skates and landed right on his face.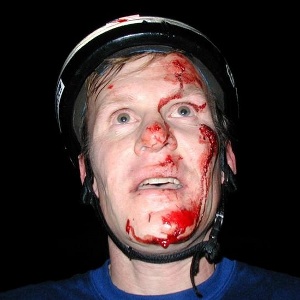 Reprinted with permission from Dave Parcells
View Larger Image
Well it finally happened. I was so confident that it would never happen to me but it did. After 13 and a half years of inline skating and a life time of ice skating it happened. I took a fall that slammed me down hard enough that I hit my head on the pavement. In all my early years of inline skating I never wore a helmet because that would never happen to me. At the 1996 Athens to Atlanta, my first race, I borrowed my brother Charlie's helmet. Why buy a helmet for one event. I skipped 97 but when I decided to do 98 Rom at Stay in Line skate shop gave me a helmet a week before the event and on that day for some reason I decided to start wearing it all the time. I guess I decided since I was now on speed skates and skating faster it seemed like a good idea to protect my head. And now here I am a little over 3 years later writing about how Rom's generosity and my decision to always wear his gift when I skate most likely saved me from a trip to the hospital. So what happened.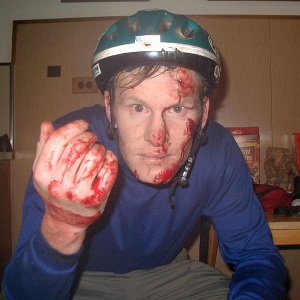 Reprinted with permission from Dave Parcells
View Larger Image



I was 20 miles into a 30 mile training skate on the oh so familiar streets of Detroit. I was feeling strong and ready to crank out the last 10 miles when I made my first bad decision. Instead of taking the familiar route that I have done many times I decided to try something new so I made a turn and started to climb a hill thinking about going down the other side in a way to time the lights so I could make the greens and not have to slow down. I new the street well enough to know that one of the cross streets I would go over as I went down the hill was rough so I had that in the back of my mind. The problem was that I was so focused on hitting the green light that I did not realize I was going from a well lit situation into a section of street that the street lights were not working. At this time it was just getting dark so I was not aware of how dark it would be with no street lights. As I came down the hill ready to fly through the intersection I realized that I could not see the pavement below me so I did the worsted thing I could have done at that moment. I stood up out of my tuck. At the very moment I stood up my skates rolled down into a partially sunken manhole cover that I could not see on the unlit street. It was sunk in a way that it was like a ramp where I rolled down into it with no way of rolling back out of it. If it had been sunk evenly on both sides I might have had a chance of bouncing over it but the way it was I had no chance of that. When I hit the other side of it my skates stopped dead and I had no where to go but down.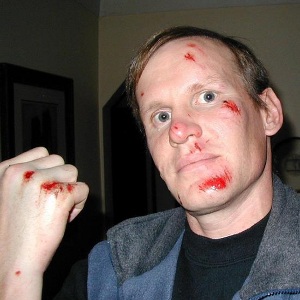 Reprinted with permission from Dave Parcells
View Larger Image



The fall happened so fast I had almost no time to react. I was able to get my left hand out in front of me but my right hand got trapped behind and I smashed those knuckles on the pavement. With only one hand to hold my head off the ground there was no way I had the strength to accomplish that feat so first my helmet hit and then my face. I was fortunate enough to hit on more of the left side of my face. Had I taken a direct hit on the front of my face I am sure I would have broken my nose or worse busted teeth. The sensation of having my face hitting and scraping across the pavement is the most horrifying thing I have ever experienced. Here I am alone on a dark street on the outskirts of downtown Detroit in an industrial part of town with my face being smacked and dragged across the pavement. Luckily the initial impact with my head was not enough to knock me out and I was able to jump right up and start assessing the damage to my body. Those first few minutes standing there with blood dripping off my chin and out of my mouth were not very pleasant to say the least. My first reaction was to think the worsted.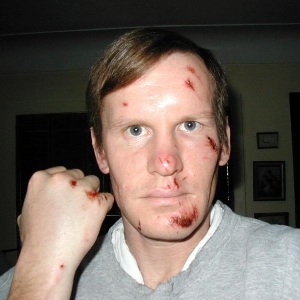 Reprinted with permission from Dave Parcells
View Larger Image



Busted face, broken nose, and damaged teeth was what I was thinking. But as I stood there with the cell phone out ready to call for help I started to go through that check list and to my surprise and great relief none of those diagnosis were true. I decided to put the phone away and give myself a few more minutes to regroup and see how I felt. The cut in my mouth was minor so that bleeding stopped rather fast, and poking around on my face and nose I could see that nothing was broken there either. I decide to skate downtown to a bar and call for a ride home from there, but as I was skating along I was feeling ok so I decided to skate the last 10 miles home. I ended up with nasty road rashes on my knuckles and since I forgot to wear my knee pads my left knee took a pretty good hit. My face has scrapes on it but not nearly as bad as I would have expected after that experience. The ironic part of this is just 4 days earlier I refined a CDS Detroit palm protector design and this was my third skate on this new design. I am happy to say the new design worked flawlessly and I have some pretty impressive gouges in my left hand plate while my palms are perfectly fine. So now that I am reflecting back on this accident I can think about what I did wrong and try to not make the same mistakes again.

My first mistake was deciding to turn off a familiar route to take an unfamiliar route when it was getting dark. My next mistake was skating too aggressively down a hill just to beat a red light when it was dark and I did not know the condition of the pavement I was coming up on. Then my biggest mistake was, when I realized that I was in an unsafe situation I stood up when what I should have done was gotten even lower. So what I have learned from this school of hard knocks is that no matter how experienced a skater you are dangerous situations can come up faster than you have time to react to and you better be prepared. I don't even like thinking about what could have been had I not been wearing plastic on my palms and Styrofoam on my head.

Related Articles (coming soon)
Tomi Wuethrich Takes a Fall at A2A (bl-tomi-wuethrich-a2a2000)
Ulf Haase Takes a Fall in Stockholm (aa010907)
More Injury Photos
The Adventures of Clap Happy Dave (aa010511a)

---
About the author...

Dave Parcells is a speed and fitness skater in Detroit, Michigan, who loves long-distance skating, hill skating, and city skating in downtown Detroit. He skates mostly for his own enjoyment, but he does some competing, especially at long distance races like Athens to Atlanta, the New York City 100k, other events that are at least the length of a full marathon. He does most of his skating in the street, but he does enjoy training on the path at the Kensington Metro Park near Detroit, and in the winter he often trains at the Silverdome (see Detroit Skaters Do It In the Snow for more information about the Winter skating scene in Detroit). His favorite places to skate are Detroit Michigan, New York City, and Venice Beach California. Dave can be contacted at dave@cdsdetroit.com.

Dave and his brother Charlie own CDS Detroit, a Michigan-based company that was established in 1991 when Charlie Parcells invented the CDS skating gloves and mirrors better known as the Charlie gloves. In 1993 CDS got involved in the aggressive skate business by making grind plates and other grinding accessories for skaters. Today CDS is still dedicated to designing skating accessories and protective gear for all types of skating.
---
Related Links:
Skating Injuries - Main Menu
Inline Skating Safety Issues
---
Skating in Africa | Skating in Asia | Skating in Europe | Skating in Oceania | Skating in The Americas
Inline Skate Shop
Roller Skate Shop