Roller Derby Books
Roller Derby Videos
---
David Miles of San Francisco
"The Godfather of Skating"

The kisser in this October 2000 photo is David Miles, founder of the San Francisco "Midnight Rollers" Friday Night Skate in Northern California and the kissee is Christopher, one of the founders and leaders of the Santa Monica Friday Night Skate in Southern California.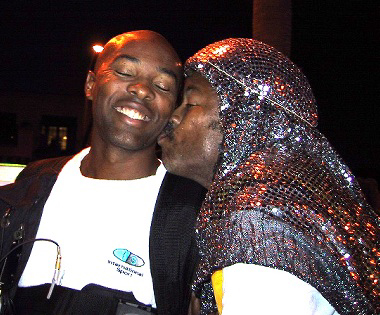 Chris on the left, David Miles on the right
Copyright © Kathie Fry of SkateLog.com
---
In 1979 a young man left his home town in Missouri and traveled by bus to San Francisco in search of a whole new way of life. Twenty-five years later he is known as the "Godfather of Skating" in the city of San Francisco, where his many contributions to skating in Northern California are much appreciated by skaters in the local area and around the world.


---
Articles About David Miles
More About David Miles
---
My First Meeting With David
This is a very bad picture of me and a wonderful picture of David Miles at the Santa Monica Friday Night Skate after the October 2000 CORA.org "Skate Against Violence" relay skate from San Francisco to Los Angeles. David and I had been corresponding by email for several months but this was the first time we met in person.


---
Related Links
Index to Skaters by Country
Skating in 100 Countries

Translate Any Web Site or Phrase
---
Skating in Africa | Skating in Asia | Skating in Europe | Skating in Oceania | Skating in The Americas
Inline Skate Shop
Roller Skate Shop