Roller Derby Books
Roller Derby Videos
---
Trang Wants to Skate a Marathon
Inline skater Doan-Trang Tran took her first skating lesson in April of 2004 and that was also her very first day on inline skates. She dreams of skating a full marathon some day and she has been asking me about the Duluth Marathon in Minnesota. Can Trang learn enough and train hard enough in less than five months to finish the Northshore Inline Marathon on September 18, 2004? (read Trang's article and post a note in our forum telling her what you think)
---
I Want to Skate a Marathon
by Doan-Trang Tran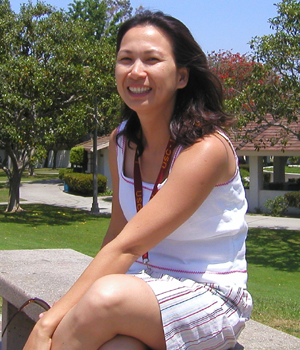 Copyright © Kathie Fry of SkateLog.com



Hello, my name is Doan-Trang Tran and I want to skate a marathon on September 18, 2004 in Duluth, Minnesota. I know you are going to tell me "Sure, you can do it" but there is one little problem... I don't know how to skate.

About Me
Before getting into the details of my plan, let me tell you a little bit about myself. I am thirty and a woman. I am originally from Vietnam but now I live in Southern California near Los Angeles. My full Vietnamese name is Doan-Trang Tran but my friends call me Trang. I love outdoor activities. I do biking every day on the South Bay Bike Path. I also do yoga twice a week and walking on the weekends. I enjoy these exercises very much. So you may ask, why do I want to skate? Well, there is a story behind it.

Why I Want to Skate
When I was a teenager in Vietnam, I tried to skate one time in a small roller skating rink in Saigon. It was so crowded. It looked like a zoo with hundreds of kids. There were a few of them who knew how to skate, but some of them were first time skaters, and most just did not know what they were doing. I guess they just came there to run into the others. As a result, I fell and broke my jade bangle. In Vietnamese culture, it is a bad sign when you break a jade bangle. I was so sad and discouraged and I did not ever try to skate after that. Now I am in my early thirties. I decided to face my fears, of which I have quite a few. And you may guess, skating is one of them. So now I want to learn how to skate and... I want to skate a marathon.

My Plan to Start Skating
I did some research on the Internet about inline skating. I checked Kathie Fry's SkateLog.com site and I talked to her about my intentions and to seek her advice. She was so excited and pointed me in some directions to get me started. Kathie advised me to take at least one lesson before "breaking anything by trying to skate on my own" (she said). Learning from my past experience, I think she is absolutely right. I signed up with California Skate School owned by Janet Miller Sheehan.

Over the next few weeks I will share with you all of my experiences with skating. I want to share with you what it is like for a beginner to turn into a marathon skater in only five months. I know that there are a lot of people out there who are just like me. We want to do something we never had any guts to do before.


---
---



Is Trang's Dream Possible?

Tell Trang what you think about her hope to finish skating a full inline marathon only five months after her first day on inline skates. [Talk to Trang in Our Forum]
---
Related Links
Trang's Skating Diary
Meet Trang at a Marathon Clinic
Skating for Beginners
Inline Marathons
---
Skating in Africa | Skating in Asia | Skating in Europe | Skating in Oceania | Skating in The Americas
Inline Skate Shop
Roller Skate Shop