Roller Derby Books
Roller Derby Videos
---
Fabiola Goes to Hollywood!
X Games world champion Fabiola da Silva will star in a new film being produced by Warner Brothers Studios.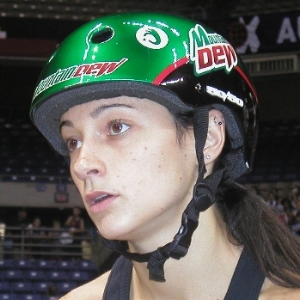 Copyright © Kathie Fry of SkateLog.com
The Movie
X Games world champion Fabiola da Silva of Brazil will star in a new Warner Brothers movie called "Slammin", which is scheduled to begin filming in the summer of 2005. The movie will be shot mostly in Brazil and it will feature both Brazilian and United States actors.

The Script
Warner Brothers producer Clifford Werber acquired the rights to the prize-winning script written by Aaron Metchik and Joseph Garner for a reported six figure sum. The script was purchased specifically as a vehicle for Fabiola da Silva because she is one of the most popular and recognizable female sports stars in the world. The script was one of four winners in the 2003 Pipeline Into Motion Pictures Screenwriting Contest.

The Story Line
"Slammin" is the story of a young Brazilian girl whose struggle to rise in the male-dominated world of competitive aggressive inline skating takes her to Venice Beach California, where she finds love and professional success (sound familiar Fabiola?)

Quote from Fabiola: "Slammin gives me a chance to present my sport and my country in the context of a story that hits close to my heart and will resonate with young people wherever they live and whatever dreams they pursue," da Silva said.

Quote from Producer Clifford Werber: "This project presents a unique opportunity to take the best of all worlds; the Brazilian film world, that has enthusiastically embraced the project, and the extreme sports world and package them together to produce a feel-good, youth empowerment film that is certain to appeal to young audiences worldwide."
More About Fabiola da Silva
---
Skating in Africa | Skating in Asia | Skating in Europe | Skating in Oceania | Skating in The Americas
Inline Skate Shop
Roller Skate Shop