Roller Derby Books
Roller Derby Videos
---
Jack Njoroge of Kenya
Inline Speed Skater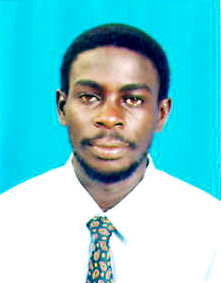 Copyright © Jack Njoroge
---
About Jack Njoroge
Full Name - Jack Njoroge Wanjiku
Goes By - Jack Njoroge
Birth Date - 1980
Birth Place - Nairobi, Kenya
Current Home - Nairobi, Kenya
Nationality - Kenya
Started Skating at Age: - 11
Started Competing at Age: - 14
Height - 5' 5"
FROM JACK NJOROGE: "My goal is to be among the top 10 finishers at an inline speed skating world championship event. The teams I most admire are Bont, Saab Salomon, Fila, and Rollerblade. In addition to skating, I have also competed in running and swimming."
---
Related Links
Inline Speed Skaters
Ice Speed Skaters
All Skaters by Counry
Skating in 100 Countries
---
Skating in Africa | Skating in Asia | Skating in Europe | Skating in Oceania | Skating in The Americas
Inline Skate Shop
Roller Skate Shop