Roller Derby Books
Roller Derby Videos
---
Moving From 4 Wheels to 5
by Joakim Wassberg
An article about moving from 4 wheel inline skates to 5 wheel speed skates, by Joakim Wassberg, a swedish inline skater who lives on Gotland Island off the Coast of Sweden.
This was the day. I was going to buy my first 5-wheel inline skates.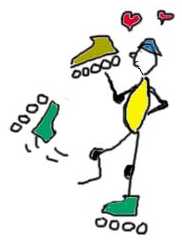 I had been skating for a couple of years, and felt ready to make the move. What would it be like? I knew that there was an extra wheel. I knew that the wheels were bigger and harder than my old ones. I knew that the boots had a lower cut then my old ones. But how would it feel? Was I ready to make the change? The skates were expensive, so why could I not stick with my old skates? Weren't they good enough? They had served me well for four years, so could I not keep them for a while?. Maybe I could find someone with a couple of 5-wheelers that I could try.

The questions were banging in my head as I entered the shop. I had been there the day before and I had no choice of brand. They only had one pair in stock. I had tried them on, but not skated with them. The shopkeeper helped me heat-mold the shoe to make it fit my feet better. This was feeling strange. The shoe was like a part of my foot, not as a cement block, like my old boots. But the shoes were also harder, much harder. How would this be?

Out of the shop. Strapped them on and took my first strokes. Ouch! This was different! This was strange! The blade was so long. I was so high above the ground (yes, I know that the wheels only were a couple of millimeter larger, but it felt much more). Yes, I did miss the support for my ankles. My feet felt wobbly and unstable. But the greatest difference was the speed. I was just standing straight up and was rolling down a small slope. But the skates did never stop. I just kept rolling. And now came the next problem. The skates did not have a brake. I thought that I was a good enough skater to manage without a brake. But how could I stop these rolling monsters under my feet?

I had no accidents, and skated all the way home safely. The same evening I went for a longer ride. I was picking up the technique. The idea was to take longer strokes. I was skating with long easy strokes and I noticed that I was gaining speed in a way I never had been able to do on my 4-wheel skates.

When I was skating my old ones the feeling had been that the upper limit for high speed had been the skates. With my new skates it felt that the limit was my technique. As the months went by, I was improving my technique, and was able to use the benefit of having a lower cut boot. The design made it easier for me to develop a rather good Double Push because I could flex my ankle.

The only problem that kept following me was my chafed feet. I had to heat-mold my boots some more, and use a knife to reshape them a bit. But the best thing for my feet was just to use the skates a lot. Let my feet get used to the hard and tight shoe.

After two months I went for a ride on my old skates. That was not fun at all. There is no way I will change back and use 4-wheelers again. If you are looking for greater speed, and want to take long rides with skates, do as I did. Make the change.




---

About the author...

Joakim Wassberg is a teacher, computer programmer, and inline skater from Gotland, a small island in the Baltic Sea, off the Southeast coast of Sweden. He has been skating for nearly 10 years and he loves to take a 30-mile ride on his skates. When he's not skating, he is playing with his two sons and teaching them to skate. He also tries to find time to compose music on his synthesizer and guitar.
---
Related Links
Skating in 100 Countries
All Skating Articles
Translate Any Web Site or Phrase
---
Skating in Africa | Skating in Asia | Skating in Europe | Skating in Oceania | Skating in The Americas
Inline Skate Shop
Roller Skate Shop