Roller Derby Books
Roller Derby Videos
---
Queer Eye for the Figure Skating Guy
John Zimmerman will Guest on Popular TV Show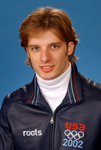 © USOC

United States pairs figure skating champion John Zimmerman will appear on Episode 121 of the popular U.S. television show "Queer Eye for the Straight Guy". Every week that program features five homosexual men giving fashion, grooming, food, culture, and interior design advice to a straight (non-homosexual) man. This is the first time the show has featured a world class athlete or any other celebrity.

What the Fab Five Focused On
One of John's most distinguishing feature, and one that has generated a bit of controversy in the figure skating world,

is his long and somewhat out-of-control hair. His new wife Silvia Fontana (who is also featured on the show) was afraid the "Fab Five" would do something drastic like chop it all off or even shave his head, but neither John or Silvia will reveal what actually happened on the show. The only thing they will say is that they were both nervous and apprehensive about what would happen to John's hair and that during the taping they were definitely NOT in charge.

From John Zimmerman: "As far as what really goes on behind the scenes, it is pretty much what you see on TV." John also commented that being onthe show was like "being in a hurricane". Anyone who has seen this show can easily imagine what he means by that.

Broadcast Schedule
The episode featuring John will air for the first time in the U.S. on Tuesday March 9, 2004 at 10:00 pm EST on the Bravo channel. Skaters in other time zones and countries should check their local listings for the broadcast date and time.
Episode 121 - Preview
Episode 121 - Video Clip
Queer Eye Home Page
Bravo Channel Home Page
About John Zimmerman
John Zimmerman and his skating partner Kyoto Ina earned a bronze medal at the 2002 World Figure Skating Championships in Nagano, Japan and they finished 5th at the 2002 Olympic Games in Salt Lake City. In 2003 they earned a bronze medal at the United States Pairs Championships in Los Angeles, California. In 2004 John and Kyoto went professional and began touring with Scott Hamilton's "Stars on Ice" show. For more information see Bio of John Zimmernan.
---
Related Links
John Zimmerman Bio and Articles
All Skaters by Country
Skating in 100 Countries
---
Skating in Africa | Skating in Asia | Skating in Europe | Skating in Oceania | Skating in The Americas
Inline Skate Shop
Roller Skate Shop